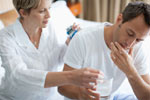 Lifestyle diseases are on the rise among young men in metropolitan cities.
Lifestyle diseases have always been put down with an iron, but they continue to lurk around, especially in the metros. A new survey shows how it has become important for men to get proactive about their health in today's fast-paced society.
According to this survey, which was released on the occasion of World Men's Health Week, lifestyle diseases such as high cholesterol and diabetes are hitting a lot of young Indian men in the metropolitan cities.

The survey was done by Metropolis Healthcare States and shows that more than half of the men in metropolitan cities like Delhi, Ahmedabad, Mumbai and Chennai. Of the 38, 966 samples that were screened during the period of 9 June and 15 June, 56.81 percent had reported to be suffering from high levels of diabetes.

Over 41.48 percent of the samples were in the age group of 20-40, indicating that there was an increasing trend of younger population developing diabetes. The survey had also found that 8.21 percent had high cholesterol levels and 23.01 percent in the same age group experienced a growing rate of cholesterol in another sample that was collected from 35, 886 males.

Even though high levels of diabetes are usually linked with age, some other factors such as stress, body mass index, lack of physical activity, family history of the disease, etc add to the problem, significantly.

Both high-cholesterol and diabetes patients are at risk of cardiovascular diseases besides some other health problems. The study suggested that along with regular screenings, people must try to go for preventive measures such as reducing obesity, decreasing salt intake, increasing physical activity as well as others.
The study also disclosed a trend of prostate cancer. Of the 20, 054 samples that were tested for it, 4, 064 samples were shown to have marginally high risk of prostate cancer. According to a statement from Metropolis Healthcare, "Individuals have become more aware of the fact that heart disease is not just a disease of the elderly and are now a lot more determined to go a long way in combating this disease".

Article source: Zee news
Image courtesy: Getty Images
Read more Health News.