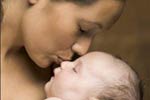 This is day is observed across 75 countries in the world to celebrate womanhood and show gratitude towards the selfless love of all the mothers. Let's understand its significance and know why is it celebrated.
Motherhood for a woman begins since the inception of her pregnancy. A woman feels the essence her motherhood while she up brings her child and strives really hard to make sure that her child becomes a good human being. A mother has to go through numerous hardships during pregnancy, while she is giving birth, and during the process of raising her child.
What a mother does for her children is a thankless job. However, this day gives every child an opportunity to show how much her struggle matters.
Importance of This Day
The love a mother showers upon her child is completely selfless. The day is celebrated to thank all the mothers who gave up everything for their children. The day is celebrated by gifting cakes, chocolates, flowers, etc. to mothers who have made countless sacrifices for their children. While she spends her entire life living for her child, it is this one day which comes every year when it is for her child to tell her how she made their life worthwhile. A mother continues to nurture and guide her child till her last breath. Despite all the pains she goes through while conceiving, a woman still feels to be blessed to have experienced a feeling which a man could never have. Mother's day is only a token of gratitude by the entire human kind for all the mothers for making this place worth living.
Why is it Celebrated?
It is believed that the Romans were the first to realize the importance of a mother's hardships and began worshipping her in the form of goddesses Cybele. Consequently, many countries in the west also understood the significance and that is how mother's day came into being. It became one of the most important occasions celebrated across many countries, unofficially though.

Around 75 countries all over the world celebrate this day on the second Sunday in the month of May every year.
Image courtesy: happyeastercards.com
Read more on Health News.