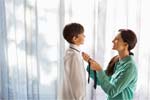 If you are a loving son, understand why your relationship with your mother is so important and spoil your mother this Mother's day with these creative ideas.
We are granted one day out of the year to devote to our mothers. Shouldn't Mother's Day be celebrated every day? Nevertheless, why not make that one day special?

The thought of Mother's day causes us to contemplate our relationship with our otherwise taken-for-granted mother. A mother-daughter relationship has always been defined to be close while mothers have gotten the same old message when it comes to raising sons: beware of keeping him "too close"; he may not grow up to be a strong, independent man. But is it really true? No!

The old adage "like father, like son" needs correcting. More appropriate is "like mother, like son." For the mother-son connection determines to a great extent not only what sons think about themselves but also what they think about women in general.

The first smile that a baby sees, the first voice that he recognizes, is that of his mother. As he grows older, his mother and her relationships with men — husband, brother, father and friends — are the first and most compelling examples of how a man interacts, or should interact, with a female.




A strong mother-son relationship starts with consistency, patience, and emotional closeness, which are important for all babies, and the process is the same for boys and girls.

Mothers are the first and most constant expression of what a woman is and a boy's view of the world is affected by what the mother has demonstrated.
What Makes the Mother-son Relationship so Important?
Studies reveal that boys who do not bond securely with their mothers in the infant years act much more hostile, destructive and aggressive later in life. A close bond with their moms when boys were young helped prevent wilful neglect when they were older.

Boys who are close to their mothers perform better in school. Mothers often nurture emotional intelligence in their sons, teaching them to recognize and express their own feelings and to be more adjusted to the feelings of others.

A close mother-son relationship is good for a boy's mental health. A study presented at the American Psychological Association showed that boys who are close to their mothers tend not to buy into hyper-masculine stereotypes. These boys remained more emotionally open.

Research shows that it is a boy's mother who is the most influential when it comes to her son's decision making about alcohol, drugs and sex. Mothers usually don't have one big "drug talk" or "sex talk" but instead tend to weave the topic into other conversations or family activities.

Moms who keep their sons close are setting them up for success later in life, both in personal relationships and at work. Because mothers work to teach their sons emotional intelligence their sons grow up with the communication skills that they need to navigate adulthood.




Mothers do not ask for anything in return for their limitless love and admiration for their children. All they want is happiness for their children. However, we should let our moms know they are appreciated and truly loved. Their hard work should never be overlooked.

If you are a loving son, spoil your mother this Mother's day with these creative ideas.
Spend Your Entire Day with Her
Go for shopping or watch a movie, or simply stay at home and prepare delicious food for her while playing some indoor games. This will surely make her happy.
Share a Meal
Keeping your mom out of the kitchen on Mother's Day will give her a well-deserved break and will be appreciated because "moms always cook." Take your mom to a Mother's Day brunch where "all the mothers in attendance are celebrated with roses, extra attention and an abundance of smiles."


Put Together a Mother's Day Gift Basket
The gift basket should include any of your mother's desired items such as lipstick, body lotion, perfume — anything that will make your mother feels exceptional.
Present Mom with a Family Portrait
Make the portrait memorable. Make sure to include her children, grandchildren, and great grandchildren — even pets. This way, every time mom passes the foyer or enters the living room she sees her adoring family.
Indulge Her
Treating mom to a spa day (or a beauty treatment of her choice) is a good way to see that she gets the pampering she may be too busy to indulge in on her own. Booking a massage for the two of you is an excellent way to share some rest and relaxation.
Present Her with Specialized Jewellery
It would be a sweet gesture to have your mother's name along with the names of her children inscribed on a pendant or bracelet. Or, present her with matching earrings and necklace with her birth gemstone.

Source: Telegram.com, Family Share, Canadian Living

Image Source: Getty Images

Read more Health News.