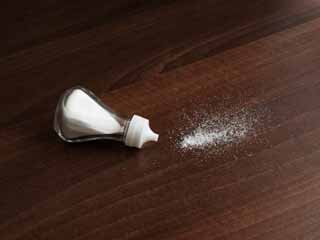 Not one but two new studies have warned against high intake of salt to ward of kidney problems. High sodium intake (an average of 4.7g a day) is linked with an increased risk of needing dialysis.
If blood pressure problems didn't convince you enough to avoid salt, the results of a new study will. Too much salt in your diet increases the risk of developing kidney problems.


The researchers linked high amount of sodium intake with an increased risk of needing dialysis. This high amount measures to an average of 4.7g a day. They did not see any benefit for low sodium intake which is equal to 2g a day.

"Our findings extend the known benefits of healthy eating and show that the consumption of a healthy diet may protect from future major renal events," said Andrew Smyth from the National University of Ireland, Galway.

"As dietary modification is a low-cost, simple intervention, it offers the potential to significantly reduce the burden from chronic kidney disease, while also protecting from cardiovascular disease," Smyth added in the study involving 544,635 participants.

A separate study confirmed these findings which found that reducing salt intake reduces albuminuria, or excess protein in the urine, which is a hallmark of kidney dysfunction. For the study, 120 rural villages in China were randomised to no intervention or an 18-month sodium reduction program, including education and access to a reduced-sodium salt substitute with added potassium.

Individuals in villages that received the sodium reduction intervention had a 33% decreased likelihood of having albuminuria compared with individuals in the control villages.

Jardine said that the fundamental question now is whether dietary salt reduction would also protect against progressive kidney damage, and If it did, community dietary interventions would present a new method for improving kidney health with efficient uptake and relatively low cost, which would supplement current pharmaceutical-based approaches.

The studies will be presented at ASN Kidney Week 2014 at the Pennsylvania Convention Centre in Philadelphia (US).

Source: DNA
Image: Getty

Read more Health News.