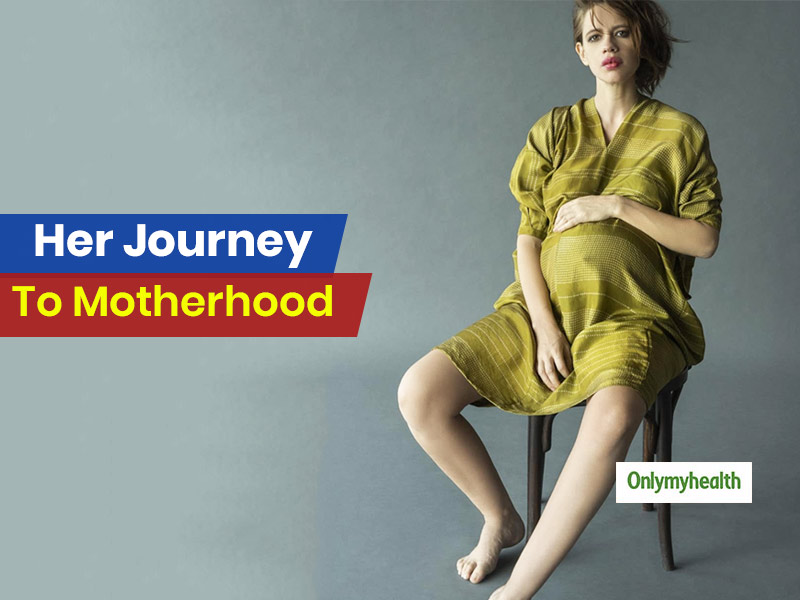 The Dev D actress Kalki Koechlin stepped into motherhood and gave birth to a beautiful baby girl with her boyfriend Guy Hershberg. The 35-year-old actress has opened up about the struggles faced by women during their journey towards motherhood. Kalki is the new age mom who isn't afraid of the judgments and choices that she makes. Her pregnancy styles took social media to another level.
Kalki talked about her reaction when she first got to know. She mentioned she immediately went and bought another pregnancy kit. Even though she didn't plan it, but she always wanted to have a baby. She said how her first trimester was challenging as she was vomiting a lot. She lost weight and gained stress. She feels that men are clueless about these things as women don't talk about such issues.
The actress revealed in an interview to mid-day that she didn't feel any maternal instinct in the first two months. After she got to know, she was excited. Kalki talks about her experience on an unexpected pregnancy, says "It was like an alien invasion. It was like a virus, I was throwing up. I was so ill. But by the start of the 2nd trimester, I was peaceful, glowing and settled in. And then when you see your baby in the sonography, you see the miracle of something coming from absolutely nothing and becoming a person. when I first heard the heartbeat, I got excited." During her first trimester, she was shooting and finishing off all her work commitments.
Also Read: 5 Things No One Tells You About Labour And Childbirth
In her latest Instagram posts, she can be seen flaunting her baby bump, with a caption "Relieved I can let that bump hang free after months of stuffing it into costumes which fit me at the beginning of shoot schedules in July but were not so easy to zip up by mid-September! And kudos to my style saviours @who_wore_what_when for coming up with innovative ways to cover it up!"
Pregnancy got a change in her, says Kalki. "I am more patient, slower and deliberate now. When motherhood comes, it brings a new change, a new consciousness to your sense of a person."
Check out these Instagram posts. We cannot stop drooling at those adorable pictures of her cute baby bump!
Kalki, who was previously married to filmmaker Anurag Kashyap, talked about marriage and pregnancy in Kareena Kapoor's radio show What women want. She said, "My family is happy that I am pregnant and Hershberg's family too." She further added, "My mother told me that look, next time you get married, just be sure, this is your life".
The actress was asked if marriage is on the cards, to which she said "We are not rushing into marriage just because I was pregnant. If it's necessary for the documentation, bureaucracy and school registrations of the child, we will consider it also we have enough validation from each other and our families, too"
Kalki is quite fitness conscious and living a healthy lifestyle during her motherhood. She says "Earlier generation said no to exercises during pregnancy, but now things are changing. I have to be fit and strong. I am eating organic and healthy". Not just eating healthy and exercising was her priority but she agreed that swimming, yoga, and meditation helped her during the first three months of her pregnancy
Also Read: 7 Things You Should Know When You Get Your First Period
The 35 year-old actress broke the stereotype by talking about her pregnancy before her marriage. She says, "I think that you don't necessarily guarantee happiness out of a "contract" of marriage. It is about finding the right atmosphere and community for your family and baby."
Bollywood actresses at some point in time get trolled and bullied on social media platforms. Kalki has also been bullied and trolled for being so open about her pregnancy outside of marriage. She said that there were questions such as, "Where's the Husband" and "How can you do this?" But that doesn't bother her at all. "Somebody will disagree with your opinion, and that's okay" Kalki on her interview with Pinkvilla.
There's a reason why she's known for her fantastic and robust personality. Kudos to her!
Kalki who made her debut in Anurag Kashyap's 2009 film, Dev D. She is known for her amazing performances in films such as Margarita With A Straw, Yeh Jawaani Hai Deewani, Zindagi Na Milegi Dobara, Shaitan and also her web series like sacred games, Made in Heaven.
Welcome to the world, little Sappho! Can't wait for all the photos that mother Kalki is going to put up on Instagram.
Read more articles on Women's Health