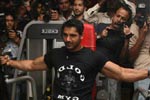 Considered to be one of the fittest actors of Bollywood, John Abraham once again shares fitness tips with his young fans during an inauguration ceremony.
Known for his charming looks and fit body, the heartthrob of Bollywood John Abraham once again bestowed his fans with his fitness tips while he was in Ahmedabad to inaugurate a fitness center.

Recently, the robust actor has been spending a lot of time and money for the betterment of sports and fitness world. At various occasions, the actor has been found spreading awareness about living a healthy life and sharing fitness tips with his fans.

The fitness freak John Abraham swears by his fitness and says ``I will leave anything for my fitness''.

While giving fitness tips to young Amdavadis, John persuaded them to generate positivity in their lives in order to have a healthy mind and body. He said `` you need to keep your mind in a positive frame. This not only helps in keeping your body fit, but also your mind remains in a healthy space''.

John, who is an inspiration for many, while motivating the young crowd added, "besides that, eating right kind of food in the right amount, getting proper amount of sleep and drinking a lot of water is also essential for a fit body".

While giving fitness tips and sharing with his fans what it to takes to maintain a physique, John said ``maintaining a good physique is very difficult. You have to control your food habits a lot and not eating what you like the most could be extremely difficult.''

Earlier, in the month of November, John shared some fitness tips on healthy lifestyle with diabetes patients in Mumbai to mark the occasion of World Diabetes Day.

He said "eat well, eat right, and workout doesn't mean going to a gym. Even if you go for brisk walk or you play a sport or just go for walks is healthy enough and just stay away from bad habits that's most important".

The fit-at-40 actor raised concerns over the disease and said `` diabetes is a really big concern for India. India has got the largest case of diabetes in the world as we just heard which is really shocking. But Diabetes is curable with insulin and so we all have gathered here to spread the awareness''.
Image courtesy: pages.rediff.com
News source: timesofindia.indiatimes.com/dnaindia.com
Read more on Health News.