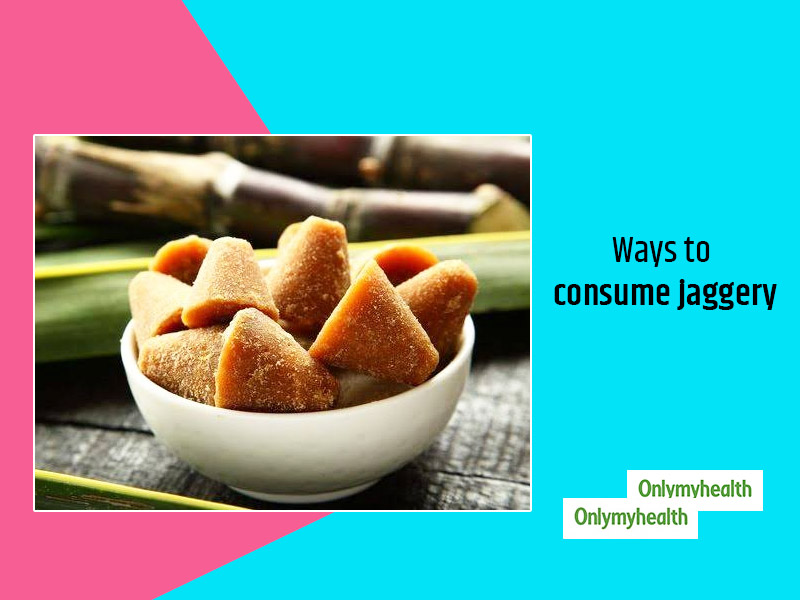 Jaggery is a natural sweetener that is found in almost every Indian household. It is a famous traditional Indian favourite which is also known as Gur. Jaggery is mostly consumed in the winter season and offers several health benefits. It can also benefit in changing the taste of your mouth. You can have a small piece of jaggery after a heavy meal to avoid bad breath and acidity. A lot people eat jaggery directly or food items made using it. Jaggery is a rich source of beneficial minerals such as iron, Vitamin C, protein, iron, potassium and magnesium. This unrefined sugar product is known by different names in various places. Usually, it is made using sugar cane but can also be made from date palms in some countries.
Jaggery is a healthy and tasty snack as it helps in increasing the regulating speed of nutrient absorption. There are many ways to eat jaggery, which can even contribute towards enhancing your digestive system. It is a super food, and can benefit those people who suffer from digestion problems. If jaggery is combined with the right ingredients, it can result in a highly nutritious and healthy food. It is low on calories, good for health, and you can always keep it handy. However, even this healthy item should also be consumed in moderation as suggested by your dietician. Read further to know about some interesting ways to consume jaggery.
Ways to consume jaggery
Jaggery or gur is considered extremely beneficial for our body. Eating jaggery helps you recover from cold and flu faster because the minerals and antioxidants present in it help you in strengthening your immune system. There are many ways to consume jaggery. It can be eaten with peanuts or mix it with milk and there are many other ways as well. Here are 8 interesting ways to consume jaggery:
1. Jaggery milk
If you mix jaggery in your milk everyday, then it will help in boosting your immunity. Having jaggery milk will help in stomach pains during periods and will also enhance your digestive system. Moreover, this way can also keep your skin healthy. A mixture of both these ingredients can bring out an extremely tasty and healthy drink. You can drink this before bedtime during winter season. Jaggery milk can even help in treating many cough and cold problems. Another benefit of taking jaggery in milk is that it can even contribute in your weight loss journey.
2. Jaggery halwa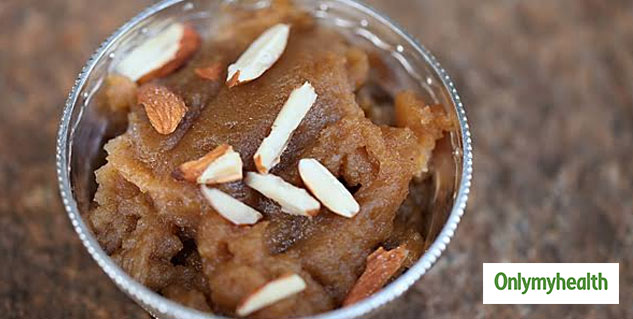 Jaggery can be used in halwa as a replacement for sugar. Not only it adds enough iron to your food it also gives a nice mild flavor to halwa. Potato halwa tastes very good with jaggery, potatoes are rich in minerals. But, you should mind the quantity as it requires good amount of ghee. You can add a variety of dry fruits in Gur halwa like pista, almonds and raisins. Therefore, jaggery halwa is also a healthy sweet dish that you can have especially in winters.
3. Jaggery and Dal
Use of jaggery is not just limited to be involved in sweet dishes. It can be used in dal to enhance the flavour. You can add amchur and red chilli to balance it out with salt, so that your food doesn't taste too sweet. It gives an excellent flavor and fragrance to your dish. Adding a few drops of lemon is also recommended for better absorption of iron in the body. It is a very convenient way to add iron in your diet, especially for those who are anaemic and do not have a sweet tooth. Jaggery is often added in dal in many Indian households.
Also read: 3 Types Of Jaggery And Reasons Why You Should Switch From Regular Sugar
4. Jaggery roti
It is a very old Indian trend of serving makke ki roti (maize flour) with slightly heated ghee (clarified butter) with jaggery (gur). Sometimes people crush the entire roti and add jaggery so that it melts. And, this mixture is combined with crushed roti (preferably a thicker one). Jaggery roti should not be consumed in abundance, but in small quantities instead. Do not make this a part of your staple diet and eat it once in a while only.
5. Jaggery in til ladoo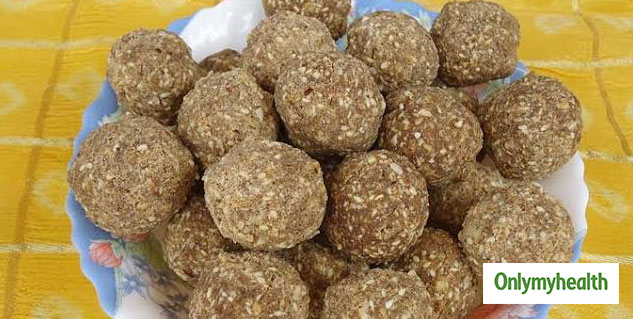 Jaggery can be molten along with a little ghee and then til can be added to it and this mixture should be made into laddo while it's hot otherwise it can harden.Til is also very nutritious , it enhances your immunity and it's very good for high BP patients.It can also be eaten by diabetic patients but not when their sugar is fluctuating, and they should limit the quantity. Even many experts might recommend having jaggery and til ladoos in pregnancy as well. It is full of nutrients and a delicious sweet.
6. Jaggery and peanuts salad
Jaggery can be eaten with raw boiled peanuts. You can use green chutney along with it. For flavouring olive oil and boiled chickpea can be added along with chopped onions tomatoes and boiled water chestnut (singhada). In winters, we have a habit of having peanuts and jaggery since childhood. This combination also helps in keeping you warm from the inside. Everyone can have peanuts and jaggery in daytime too. You can even have a jaggery peanut chikki in winters. It is available in the markets and can be easily made at home too. You can take a small piece after one of the meals of the day.
Also read: You Must Have A Piece of Jaggery Daily, Read Jaggery Health Benefits
7. Jaggery kheer
Jaggery can used as a replacement of sugar in kheer it also gives kheer a very rustic colour. Kheer should be ideally served cold. Using earthenwares is definitely recommended as it also helps in enhancing flavor. You can make normal rice kheer and put a little amount of jaggery into it. Jaggery kheer acts as a healthy eggless dessert for your family. It is easy to add your own variations in making Gur kheer at home and is mostly made at home.
8. Jaggery water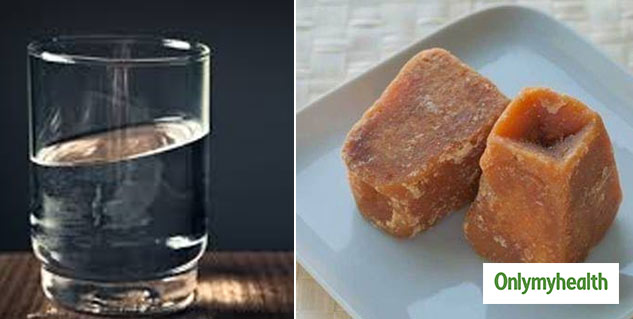 Jaggery can be consumed by very simply mixing crushed jaggery in hot water.It is excellent for good bowel movement, hence it should ideally be consumed empty stomach in the morning. It is also a great detoxifier for lungs and gut. It also provides you enough energy for the entire day and calms your sweet tooth. Every morning, you can have a glass of warm water as it makes your body temperature stable and also helps in improving your digestion. You can even mix a little jaggery in this water as it treats acidity too. Therefore, you can have jaggery in winters and enjoy benefits as well as its taste.
Also read: 5 Amazing Ways To Consume Jaggery In Winters
So, these were some interesting ways to consume jaggery. You can make the above mentioned dishes easily at home. Jaggery is healthy and can also become a replacement ingredient of sugar that gets used in various food items. It will satisfy the need of having something sugary. In fact, people who have diabetes can use jaggery instead of normal sugar. However, you can talk to your dietician about the quantity of jaggery to be consumed.
Read more articles on Healthy diet