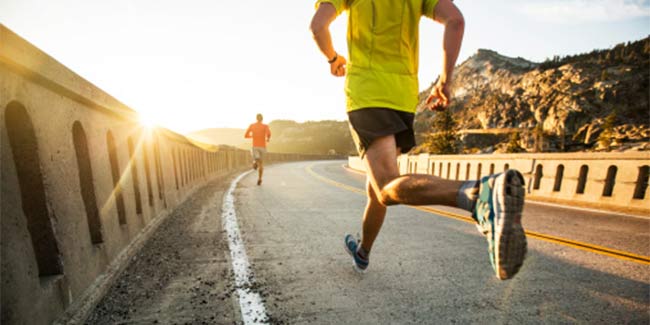 People who lead sedentary lifestyle think running is for those who seek weight loss. Well, there is no denying the fact running helps shed pounds and lets you eat a bit indulgently now and then, as you can jog the calories off in the morning.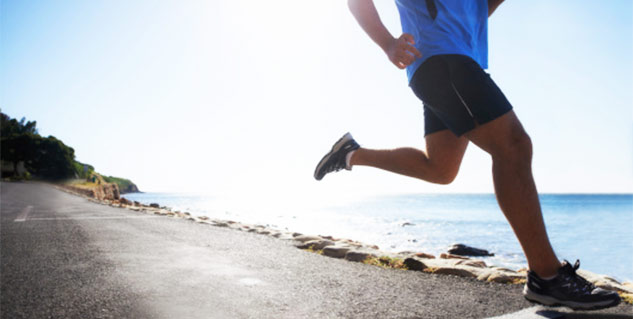 But, in reality, for most people shedding pounds is way too down the list, in fact, most people take up running because it's one of the best physical activities that not only helps them keep their body fit and healthy, but it is also the least expensive and most convenient form of exercise there is.
The reason it is convenient and not hard on your wallet is that you don't need any expensive equipments or membership of a gym other than just the right pair of shoes. Mind it, we don't mean just any kind of shoes. Yes, there are still good number of people who don't realise the significance or underestimate the importance of having the right pair of running shoes.
If you've ever been to a marathon or any running event, you might have spotted a few people who turned up at the event with the heaviest and the most uncomfortable shoes they could find. No surprise, they also happen to be the ones who end up with excruciating pain in their feet at the finish line.
So, before you sign up for your next marathon and step out on the road, let's find out from the champions themselves why it's crucial to sport the right foot wear and how do they keep themselves fit.
We spoke to Nagender Singh, you may not know him but once you learn about his achievements, we bet you will surely like to take up some wise advice from the man himself who bagged Ironman title. Mr. Singh has represented and successfully finished Ironman South Africa championship 2016 and Ironman Langkawi Malaysia 2015. He has completed his 3rd Ironman in South Africa this year and has managed to reduce his total time by 45 mins and has completed 42.2 Kms in the Floatride Run.

But first let's understand why getting Ironman title is not a piece of cake.

Ironman Triathlon is one of a series of long-distance triathlon races organised by the World Triathlon Corporation (WTC) consisting of a 2.4-mile (3.86 km) swim, a 112-mile (180.25 km) bicycle ride and a marathon 26.2-mile (42.2 km) run, raced in that order and without a break. It is widely considered one of the most difficult one-day sporting events in the world.

Most Ironman events have a strict time limit of 17 hours to complete the race. The race typically starts at 7:00 a.m.; the mandatory swim cut off for the 2.4-mile (3.9 km) swim is 9:20 a.m. (2 hours 20 minutes), the mandatory bike cut off time is 5:30 p.m. (8 hours 10 minutes), and the mandatory marathon cut off is midnight (6 hours 30 minutes). Any participant who manages to complete the triathlon within these timings becomes an Ironman.

Here are some excerpts from the interview

1. Ironman Triathlon events are surely among the toughest ones and only around 45 Indians have completed an Ironman event. So, what made you inclined towards participating in such a difficult sporting event?

Nagender Singh : Indeed, Ironman Triathlon is a tough sport but once a coach told me "Strongest muscle in human body is between the ears" so with the right conditioning of body and strong positive mindset, a human body can achieve anything! As far as inclination towards long distance endurance triathlon,I always thought "how can one do so much". I started challenging myself with shorter distance and before I realized I was hooked to this sport.

2. Tell us about your diet, do you have to follow any do's and don'ts before you sign up for Triathlon.

Nagender Singh : Nutrition is the fourth sport in triathlons. It is very critical to have a balanced diet. Diet is mostly good carbs and protein,with balance of good fats. Sweet potato,quinoa,dry and seasonal fruits are important part of the diet. As per do's and don'ts,I think one needs to focus on strength,flexibility and nutrition,at the same time a structured approach of training is required.

3. What kind of shoes do you prefer for running? Does it matter for sportspersons what kind of shoes they are wearing?

Nagender Singh : I have started using Float ride,since last few months.I find them very good.Shoes do matter a lot,firstly in terms of injury prevention and secondly in improving timing. I have found Floatride to be par excellence in both the aspects.

4. You ran wearing the latest Floatride shoes from Reebok. Did the shoes help you in any way?
Nagender Singh : Indeed,I have improved about 45 mins overall over my last Ironman finish time this year.I find the fit of float ride very comfortable for long distance running.

We also got a chance to catch up with Suresh Srinivasan, a marathon runner and who's been running for 16 years. He Has done 11 half marathons with a PB of 1:36:23 in ADHM 2015 and 4 Full Marathons with a PB of 3:47:45 in SCMM 2016. Here are some takeaways from the exclusive interview with him.

1 : You are an avid runner who has participated in several marathons. How do you prepare yourself for marathons?

Suresh Srinivasan : I begin my selecting the marathon event that I want to participate in, concurrently preparing my mind (and subsequently body) to be a part of the marathon. Once I am mentally prepared and have registered for the same, that's when my clock starts ticking. In terms of specifically preparing for a marathon, I consider the two most quintessential aspects:

What's my goal for the marathon – Is it to finish strongly, chasing a new PB, do I want to be a pacer (Bus)?
I do a thorough analysis of my weak spots taking my previous marathon as a baseline – the areas that I would like to work on, and hence the training preparation must include the strategy to overcome those. An example could be, did I bonk or hit the wall during the last phase (3-5 km) of the finish line? Did I cramp at any point? And similar such hurdles.
The training strategy would completely depend on the goal, understanding the marathon course, the entire planning interms of weeks of training required coupled with what are the innovative things I want to try during the course of my training.
I prefer to keep it simple focusing on all aspects of training. I do a mix and match of solo training with the weekly training boot camp with Reebok Running Squad.

2 : What's your fitness regimen and do you follow a special fitness plan before a marathon?

Suresh Srinivasan : I usually follow 14-16 weeks training plan that includes a minimum of 3 times of running (and maximum 4 times) a week with a determined effort and focus to increase the LSD (Long Slow Distance) mileage by 15-20% gradually.

I do manage to insert one or two runs like a 10 mile and 16 miles somewhere closer to the race dates like 3-4 weeks before the event running at the race pace or closer to it gives me a good feel and helps me to analyze how I need to plan and execute on the marathon day. This according to me is crucial to test what's going right for you and what you need to fine tune before you hit the start line. Things like excellent management of glycogen stores throughout the 26.2 or 13.1 miles ensuring you do not hit the wall. Try and replicate scenarios as close to the marathon day in your training runs such as practicing on an inclined surface if it's not a flat course. How to be strong during the last few miles etc.

My weekly training is with Reebok Running Squad – Lodhi Garden. This training focuses on building core strength, agility, flexibility, balancing, speed work and gradually a structured approach to enhancing the weekly mileage so the weekly affair is taken care and incase I am travelling for work or for leisure I make sure my weekly workout quota is done without fail.

• I ensure to devote at least 30-45 mins twice for strength training that include core, upper body & leg outs with few balancing workouts.
• Twice a week foam rolling, walking, stretching the core group of muscles is part of the fitness regimen.
• A good marathon training plan should focus on fueling with high quality foods and should help in increasing the capacity to store glycogen, improve running economy and fat-burning capacity enabling to burn through your glycogen stores at a slower rate.
• Lastly, maintaining an appropriate nutrition plan throughout the training process for eg the amount of carbohydrate a runner needs to include in the diet should be linked with the number of hours of running that is planned.

3 Tell us about your diet, do you have to follow any do's and don'ts before you sign up for a marathon.

Suresh Srinivasan I always prefer to take a healthy balanced diet focusing on a mix of healthy carbohydrates, proteins such as brown rice, pea nut butter, sweet potatoes, idly, eggs, loads of fruits such as banana, apple, orange, grapes, papaya, walnuts, almonds, raisins, oats, paneer, curd green tea, small piece of dark chocolate without undermining the importance of hydrating before the run, during the run and post-run.

• Do's – Strictly follow a healthy diet (include things mentioned above in your diet)

• Do's – Get good quality sleep 2 weeks before the marathon, be in good spirit, plan your work well so you feel light, easy and happy

• Do's – Focus on high quality foods such as vegetables, fruits, nuts and whole grains

• Do's – 2-3 weeks focus on tapering, keeping your legs fresh

• Do's – Follow strictly rolling, strengthening and stretching schedule

• Do's – Lots of fluid intake – Fresh Fruit juices, Coconut water, Lemon Juice, ORS/Energy drink one week before the marathon

• Do's – Stop consuming alcohol 3-4 weeks before a marathon and reduce the intake of caffeine (instead have green tea)

• Don't – No to starchy food, flour, sugar (replace it with Honey, Jaggery), Carbonated Soft Drinks, Packaged Soft Drinks/Juices (Infact I never consume them). Stay far faraway from refined grains, fried foods.

• Don't try out anything new on the race day. In case you want to, do so on days you train.

4 : You ran wearing the latest Floatride shoes from Reebok. Did the shoes help you in any way?

Suresh Srinivasan : Yes, I ran my fastest 10 km this season at the recent Reebok Floatride launch Run, in the revolutionary Reebok Floatride shoe which was natural without pushing myself too much and I have been doing my training runs inFloatride. Would have done close to 60 km by now on both mud and tarmac. Reebok Floatride is a perfect running partner that a runner like me would need.

The astounding feature of Floatride helps me to glide and float effortlessly and smoothly. It is ultra-light, superior comfort, breathable, the break through foam technology and the ultimate cushioning helps me to take off nicely with minimal ground contact and a decent turnover without making my legs tired nicely balancing the foot through the gait cycle. I can't wait to run my next half marathon or a full marathon event with the all new Floatride.
Image source: Shutterstock