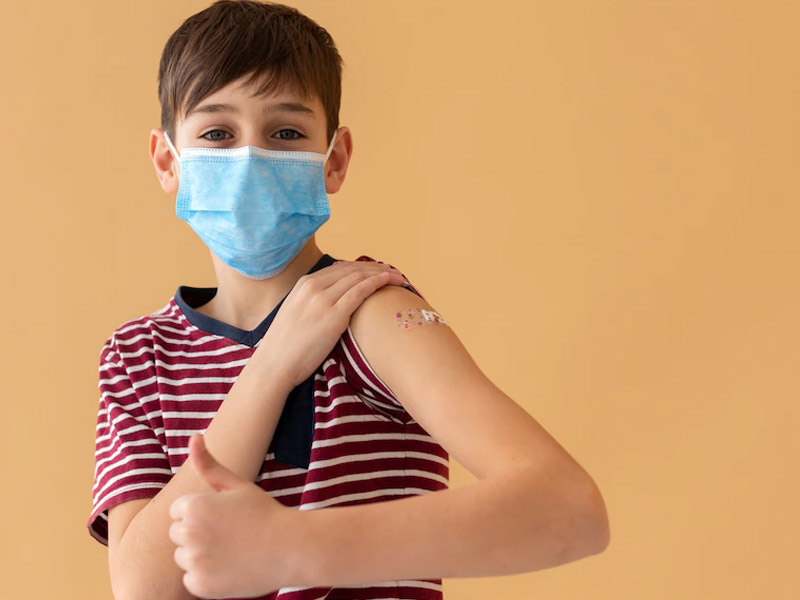 One of the most important and cost-effective public health interventions is 'Vaccination' against the life-threatening diseases of children as it saves 2-3 million lives every year. There are 20 such vaccines available but in the wake of the COVID pandemic, the regular health checks and vaccinations of the children have taken a major setback. It is estimated that 23 million children have missed their essential vaccines in 2020 during the pandemic. This poses a major threat to the re-occurrence of these vaccine-preventable diseases among children which has high morbidity and mortality. We should also count COVID-19 vaccination for children in this as this is the biggest threat these days and now that approvals have come for 12-15 years, parents must get their kids vaccinated.
"Vaccination reduces the morbidity, and mortality of these diseases also prevents antibiotic resistance and cancer and is the best cost-saving measure of health care", says Dr. Archana M, Consultant- Paediatric Infectious Diseases, Manipal Hospital Old Airport Road.
Why are vaccines so important for children?
The health care services from the government including the PHC and Anganwadis provide vaccination to children according to the Universal immunization program. It consists of vaccination for 11 life-threatening diseases, which include:
BCG (for tuberculosis)
Oral and Injectable polio vaccine (for Poliomyelitis)
Hepatitis B (for jaundice)
Diphtheria
Pertussis ( for whooping cough )
Tetanus
Measles
Rubella
Hemophilus Influenzae type B and Pneumococcal ( for pneumonia and brain infections)
Rotavirus ( for diarrhea)
Important Vaccines for Children In India
The private clinics and hospitals provide essential vaccines according to the recommendations from ACVIP. It includes the above vaccines given by the government and other major vaccines which include Hepatitis A (for jaundice), Chickenpox, Mumps, Typhoid, Influenza, Meningococcal, and Japanese encephalitis ( for brain infections), HPV (for cervical cancer).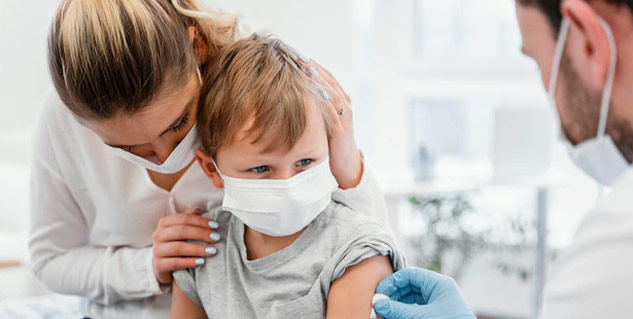 Pneumococcal vaccine
Vaccine-preventable deaths, caused by lower respiratory infections, meningitis, and measles constitutes 21·7% (20·4–25·6) of under-5 deaths. Pneumonia and diarrhea are the major cause of mortality in children under 5 years of age which constitutes 13.9% and 9.1% respectively. The pneumococcal vaccine protects against 10-13 serotypes of pneumococcus bacteria and is given at 6, 10, 14 weeks, and 15 months of life.
Influenza Vaccine
Yearly influenza vaccination prevents respiratory infections caused by influenza viruses including H1N1, which has to be taken yearly preferably before the monsoon begins, in children < 5 years and also beyond 5 years in those with comorbidities like asthma, cardiac/ renal/neurological issues.
Measles Vaccine
Measles infection also increases the death rates in children due to its complications like pneumonia, hence the vaccine prevents the risk. It is given in combination with mumps and rubella at 9 months, 15months, and 5 years of age. A coverage of 95 % is required for the measles vaccine to have a better herd immunity and thus keep the infection under control in the community.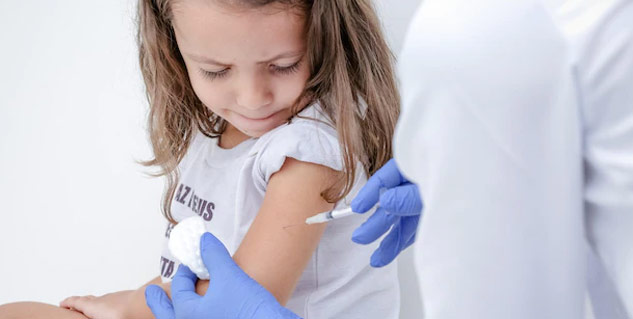 Rotavirus vaccine
There are many rotaviral vaccines available as oral drops which prevent the major cause of diarrhea, but it is preferably given by 6,10,14 weeks of life. If this vaccine is missed the catch-up vaccination can be provided only up to 32 weeks of age.
Hemophilus Influenzae type B Vaccine
Hemophilus Influenzae type B, Meningococcal and Japanese encephalitis, Pneumococcal vaccines protect the child from brain infections.
Hemophilus Influenzae type B is given in combination with Diphtheria, tetanus and pertussis, polio ( DPT + HiB + IPV) at 6, 10, 14 weeks, and 16-18 months. The meningococcal vaccine can be given as a single dose after 2 years of age. Japanese encephalitis vaccine is given after 1 year of age in 2 doses, 1 month apart.
Tetanus
Tetanus has a high mortality rate of up to 60% and this is given as a combination with other vaccines ( DPT + HiB + IPV) at 6, 10, and 14 weeks, 16-18 months. Further boosters of tetanus are given at 5 years and 10 years along with diphtheria and pertussis.
Chickenpox vaccine for newborn
Chickenpox infection can cause infection of the brain and also can present severely in older children hence regular vaccination with 2 doses at 3 months apart from 15 months of age is recommended.
BCG Vaccine
There has been a sharp 19% rise in Tuberculosis cases during the pandemic and Childhood TB constitutes 31 % of the global burden. BCG vaccine reduces the risk by 80% in children < 5 years of age. It is given as a single dose at birth.
HPV Vaccine
In an era where the incidence of cancer is rising, there are few vaccines that can prevent them. HPV vaccine prevents cervical cancer among girls, and it is provided after 9 years of age in 2 doses, 6 months apart. Hepatitis B vaccine provided for the prevention of jaundice also prevents Liver cancer caused by the Hepatitis B virus. It is provided in 3-4 doses, given at birth, 6 weeks, 10 weeks, and 14 weeks of age.
Conclusion
Timeliness of vaccine administration is important as the purpose of vaccination is to prevent vaccine-preventable infections in the vulnerable population during the most vulnerable age. The majority of these vaccines have to be completed by 1 year of age, as they are most vulnerable to the above infections during the 1st year of life. Even prompt boosting of the above doses is required throughout the vulnerable period, as the effect of the vaccine starts to wane away over some time. In the past 2 years due to the disrupted vaccine services, and fear of visiting hospitals a huge number of children have missed their doses. For such children, a catch-up immunization is given for the missed doses whenever feasible based on the age of the child.
Image credits- freepik