As you may know a rash is an abnormal change in the texture or colour of the skin, which can affect any part of your body including breasts. Yes, you may develop skin rashes on or under the breasts which could be downright irritating and painful. A breast rash can also be itchy, scaly or blistered. Other terms that are used to describe breast rash include dermatitis and hives. Now you may be wondering what causes breast rashes? Read on to find the common culprits of breast rashes.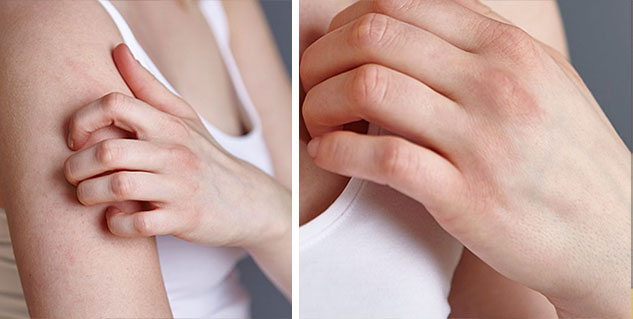 Breast rashes causes
Most breast rashes have same causes as rashes that occur elsewhere on the body however, certain rashes occur only on the breasts.
Below are causes of rash that occur only on the breast or under the breast–
Breast abscess
Inflammatory breast cancer
Mammary duct ectasia
Mastitis, an infection of the breast tissue that most commonly affects women who are breast feeding
Nipple dermatitis
Nipple piercings or other body art on the breasts such tattoos
Pagets's disease of the breast
Radiation dermatitis

Below are general causes of rash that can affect any part of the body, including the breast:
Atopic dermatitis (eczema)
Candidiasis (especially under the breasts)
Cellulitis (a skin infection)
Dermatitis
Hives and angioedema
Psoriasis
Scabies
Seborrheic dermatitis
Make an appointment
Although breast rash is not a serious problem but it is important to make an appointment with your doctor if your breast rash doesn't respond to self-care within a week or two. You should also visit your doctor if you experience below given signs-
Fever
Severe pain
Sores that won't heal
Signs and symptoms that worsen or last longer than a week
How to self care for breast rash
Is there anything that you can do to get relief from your breast rash? Yes, you can by following below given measures.
Take a warm washcloth and place it over the affected area for a few minutes. You can also take shower in warm water.
Apply a no fragrance moisturizer on your breasts.
Avoid scratching the rash
Avoid extra stress, because stress can make a rash itchier or make you more likely to scratch.

Image Source: Getty
Read more articles on Rash