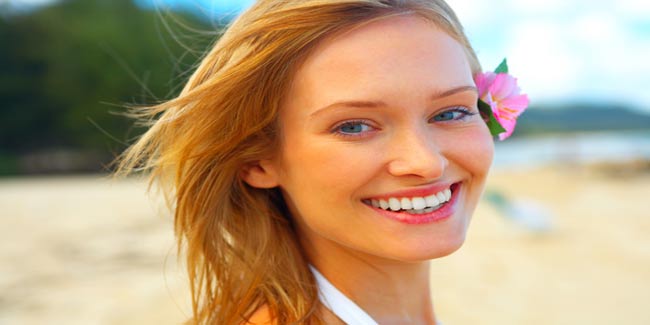 The salt water swimming, sweaty beach volleyball, sun and dance at beaches may be fun for you and your mates but have you checked your hair? A day in the beach can be as hectic as it can be a blast for you, and for men and women their pretty hair can most often give up at such times. When you want to tame your hair at the beach, it basically means you would want to take care of the frizzy hair. The beach madness is certainly hard to resist, but before you go all excited here is what you should keep at check to take care of your hair.

[Read: Home Remedies for Frizzy Hair]

No Brushing when Dry

Brushing your dry hair could damage your hair's cuticle, and this is the part that shingles and causes a frizzy mess on your hair. Your hair would be a little more vulnerable to breakage and split ends when it is wet, and so you should try to cut down on the frizz factor. You must try to towel dry your hair lightly after stepping out of the sea, and then lightly brush, comb, or run your fingers through your hair. After this you should apply leave in conditioner or some anti frizz product.

Watered down Conditioner

Use a protein rich condition that you can dilute with water so as to make it mostly runny, and then apply this to the tips of hair with your fingers. This will help to tame some of the frizzier ends of your hair. If you do not have any anti-frizz products for your hair then you could use a little bit of lotion to rub into the ends for a similar result. We would say that a conditioner is much more preferable, but a lotion could work well.

[Read: How to Choose a Hair Conditioner]

Use Natural Oils

The natural oils that are rich in Vitamin E and Argan oil are a better option for eliminating the frizz from your hair than the synthetic products. This is primarily because they last longer. Also, these natural oils don't just help with the frizz, the also tame static, flyaways and split ends and gives your hair a natural shine. The only alarming threat can be when such natural oils make your hair greasy, but if you have naturally greasy hair or an oily scalp then do not use oil, let your roots be free of oil. You can certainly use it sparingly.

Protect from the Sun

You should also try to protect your hair from sunlight by tying your hair with a scarf, or you could use a spray-on UV protectant over your leave-in conditioner to prevent the sun's rays from turning your hair a brassy shade.

You must surely have fun at the beach, but not at the expense of your hair, so take the above steps to protect it.

Read more articles on Hair Care