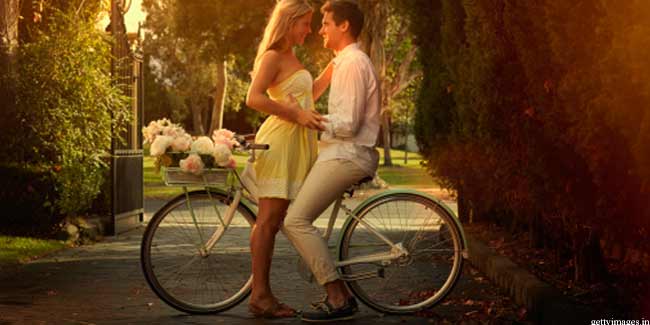 Relationship problems can arise any moment without any prior warning. Know how you can get over this problem just by talking to your girlfriend.
Bring forth a man who has won in an argument with his girlfriend and we will bring forth a crow that sings with a melodious voice. The question is how can you possibly talk out relationship issues with your girlfriend?
If you are in a relationship with a girl, then chances are that you will be facing some troubled tide. Fights and arguments are common in a relationship and they do not need any particular reason. When in a relationship you can expect to have fights with your girlfriend over something as banal as the fall of a leaf in an autumn morning. Yes, it is true. Why did the leaf fall? Did you hear her tell you that the leaf has fallen? Why didn't you pick up the first fallen leaf and give it to her? What is wrong with you! So as you can imagine, the arguments can range from the fall of a leaf to the catastrophe of you smiling at a woman. Here is how you will handle the situation, and the fun part is, that no amount of talking helps, but you may try.


Accept your Fault
There can be nothing better than this; this will calm down every thunderstorm that she has been brewing. Just accept that you are wrong this time and let things settle. By accepting fault you are not losing the fight, do not worry. You are just allowing a moment of respite, and believe us you would want to do anything for this moment of respite. You should try and empathise with her and understand her situation, it is good to be the understanding one. Tell her, "I am sorry", and give her a smile.

Rational Explanation
This is what should ideally work, but reason and rationality aren't exactly the two of the stronger traits of a woman. Therefore, this includes its risks. But you can always hope that things will be better with some good reasoning and talk. There is no substitution of talking and by talking you will help your relationship grow in a matured way. Talk to her and tell her that this is how things are and this is what you did or didn't do, and this was rational during that time. But you should not talk to her like you are partaking in an inter college debate, be calm and maintain your composure.

Now there are simply two ways, either they work or they do not. But here are some further points to keep in mind; they would complete your query of 'how'.

Shed your Ego
If you want your relationship to work then be kind and shed your ego. There can be two things during such a time, you would either want to stay in the relationship or you want to win and pat your ego. So, be careful about which one you choose.


Do not be Brutal
A gentleman is never brutal, do not toss things around and threaten to attack her. You must by all means be nice even when having the harshest of talks. Brutality would only lead to more problems, and you do not want any more problems.

Give her a Hug
At the opportune moment you should give her a hug and make her feel better, because girls have the special talent to make the saddest face on planet earth. You will try to get her to smile when this happens, and this will make her believe that you care.

End it
One of the best ways to deal with a relationship issue with your girlfriend is to end it as fast as possible. This is because the longer you drag it, the more skeletons would tumble out of the closet, and so just get it done with fast.

Whatever you do, if you love her you know you would do anything to keep her. So, prove your love, and do whatever it takes to be with her, no matter how many storms had tried their hands to shake up the very foundation of your relationship.

Read more articles on Relationship Counselling.