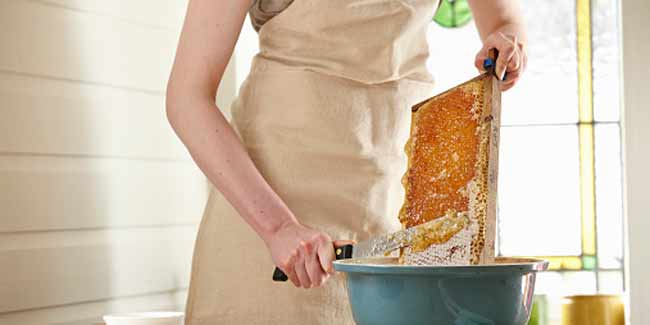 Honey in its purest form is one of the healthiest foods provided by Mother Nature. However, due to several reasons the purest form of honey is scarcely available. Thus, you must stay cautious while differentiating between real and fake honey.
Put it on your toast, mix it with a glass of warm water or simply garnish your bowl of fruit salad with it, honey in any form can be delicious and can make dish tempting. But you must stay aware. Those jars containing the golden liquid is not honey most of the times. It is just the syrup that tastes something like the real thing. The commercial honey is treated by heating at high temperatures. This abnormal heating destroys the nutritional value which honey naturally contains when just out of the bee hive. Most often it is diluted with water and high-fructose corn syrup in order to make it manageable and to stretch out the product.
The valuable pollens in honey are taken out by making it pass through tiny filters. All these processing results into a liquid which may look exactly like natural honey but, the reality is completely the opposite.
All these facts can only refrain you from including honey in your diet. But isn't there a better way to fight the impurities? Surely there is. There ways with which you can differentiate between fake and real honey. Here is how you do it.
Don't Take the Label For Granted
The label on the bottle means something much more than just an item of decoration. Check the brand name and the logo. Also, check the list of ingredients for additives or added flavour. If you have opted for real honey, it would just have one ingredient: honey.
Taste the Honey
Taste the honey before buying, if it is an option. Although tasting might not be an accurate way to check for additives but if the taste is a concern, all you need to do is dip a finger and let your taste buds decide. The unrecognisable taste of honey always does not mean that the honey you have chosen isn't pure. It can be because of the fact that honey is made from the nectar of different flowers, saps or at times even from secretions of sap-eating insects.
Add Spoonful of Honey to Water
Add a spoonful of honey to a glass full of warm water and stir it thoroughly. If your honey isn't pure and has been mixed with certain kinds of sugar syrup, it will dissolve in water. Most pure honey will sink as a solid lump or stick to the spoon.
Although these tests may not provide a 100 percent accurate result, they can surely help you make wise decisions to a certain extent.
Image Courtesy: Getty