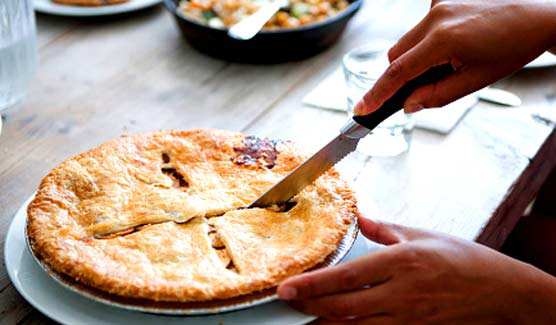 Raisins are a healthy snack. Rich with dietary fibers, raisin is good for digestive process. We bring you raisin pie, quick and simple to make and beneficial for health.
When it comes to desserts, who doesn't like pies. Pies for desserts are always a best choice for when the sweet tooth calls for it. Raisins are rich in dietary fiber, carbohydrates, natural sugars such as fructose and glucose and what could be better than to make a pie with such nutritional thing? Nothing, we bet.
Ingredient for classic raisin pie
1/2 cup of packed brown sugar
2 tablespoon of cornstarch
1/2 teaspoon of cinnamon
1/4 teaspoon of salt
1 tablespoon of butter
1 tablespoon of vinegar
And 1 pastry for double 9 inch crust
How to make the Raisin Pie

Boil the raisins in water for 5 minutes.Separately in a blender, mix sugar, corn starch,

salt and cinnamon.Now, add this mixture to raisins and cook. Keep stirring until clear.

Now, remove the mixture from heat and vinegar and butter. Stir again. Let it cool down

for a bit.

Now put the mixture to the pastry lined pan. Cover with top crust. Bake for 30 minutes at

425 degrees until it's golden brown.

Your Raisin Pie is ready and you can serve it with some vanilla ice cream.
Image source: Getty