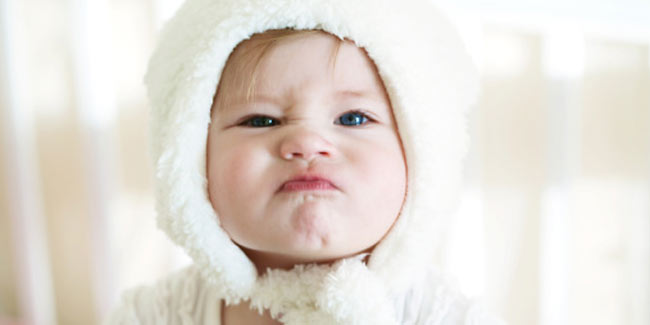 Newborn babies need a little help to maintain their body temperatures in any season- especially the winters.
Winters in most places are chilly enough to freeze the nose of a bear. With a baby, winters can be difficult to deal with. Indoors or outdoors, you need to keep your baby's body temperature optimum to protect him/her from catching cough and cold.


While you are making sure that your baby is cosy, the surroundings must not get overheated for him/her. Newborn babies need a little help to maintain their body temperatures in any season- especially the winters. Know how to keep your baby warm all through the winters.
Kangaroo Care
Kangaroo care is the practice of holding your diapered baby on your bare chest (if you're the father) or between your breasts (if you're the mother), with a blanket draped over your baby's back. This skin-to-skin contact benefits both you and your baby.

Don't worry; you won't hurt your baby. Your baby knows your scent, touch, and the rhythms of your speech and breathing, and he'll enjoy feeling that close to you. Baby-wearing, whether just around the house or when you go out, keeps the baby warm and the two of you close.
Clothing
Inside the house, a baby needs just one more layer of clothing than adults. You must choose clothing that allows the baby's skin to breathe. Just throw a lightweight sweatshirt or cardigan over the baby for a little extra warmth and forget about cranking up the thermostat. To keep toes warm, we recommend a simple pair of soft-soled baby shoes.

When heading out of the house, dress him/her in layers. Create a base layer with a thermal-regulating bodysuit and top it with several thin layers. Don't forget a hat and mittens for your day out as well. Easy-on, easy-off outer layers are the most convenient options. A snowsuit or bunting provides a great buffer against the cold.
Bathing
Most babies feel uncomfortable while bathing so you must be careful not to add to their misery. Make sure the air and water temperature are comfortably warm without being hot. After the bath, dry the baby immediately.

When the temperature inside the house is very cold, you might want to give your baby a sponge bath. The most important step in keeping a newborn warm during bath time is drying off quickly to avoid heat lose through evaporation.
Skin Care
Limit baths to under ten minutes and use lukewarm water. Soap can be irritating, so instead try a mild hypoallergenic cleanser free of dyes and fragrance. Pat her dry with a towel, and then apply a hypoallergenic lotion or cream.

It helps lock in moisture and protects your baby's skin from dryness, which is especially important during the winter months. Make it a habit to apply moisturizing lotion often during the colder months, and especially before you're heading outdoors with your baby. If you're finding that your own skin is getting a bit dry, try using a mild, allergy tested lotion on yourself.
Sleeping
Your baby is better off wearing the blanket in the form of a worn sleeping bag for newborns or a footed sleeper suit as babies get older. Wool is perfect, since it breathes naturally and helps sleepers regulate their body temperature.

Sometimes there is no substitute for body heat. If your house is particularly cold, perhaps due to a power outage or other problem, take turns with another caregiver and cuddle your little one until the heat comes back on.
Read more articles on Parenting Tips.