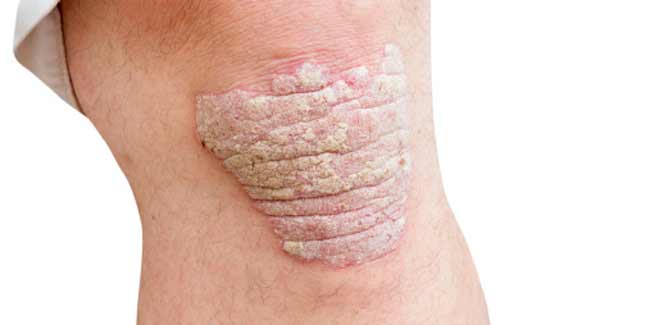 Here are some home remedies to cleanse the irritated skin and reduce itching along with other symptoms of psoriasis. This will hopefully help in reducing the number of psoriasis outbreaks.
Having psoriasis is like having an unwanted guest that shows up at the doorstep, is not wanted by anyone, is the most annoying person you've ever met, whose personality is abrasive and you're embarrassed to take him anywhere. But this form of dry, inflamed, red, scaly patches of skin condition is treatable.

If you are getting self-conscious because of this skin condition, and need to know how to get rid of psoriasis naturally, this post is exactly where you should be.

Managing psoriasis means dealing with flare ups as they come, and taking good care of yourself and your skin. If you ask an expert how to get rid of psoriasis fast, they'll ask you to take precautions to prevent outbreaks. These precautionary measures include heavy moisturising and leading an overall healthy lifestyle.




So, don't let the discomfort overpower your life; learn some ways for psoriasis natural treatment.
Soak Yourself
Rehydrating your dry skin helps soften it and remove thick psoriasis scales without damaging the skin. Take a shower, swim, soak in a tub, or apply wet compress, do it how you like it but hydrate that skin.

It is important to remove the thick scale of skin caused by psoriasis because it hampers the efficacy of medicines and ultraviolet light. Regular soaking helps in this and also in reducing itching and redness of lesions. Be careful the water shouldn't be hot but lukewarm.


Moisturise Your Skin
Moisturising is a crucial point in the "how to get rid of psoriasis naturally" list because dry skin cracks, bleeds and becomes infected. Moisturizing not only helps prevent dry skin, it also reduces inflammation, helps maintain flexibility, and keeps psoriasis from getting worse.

When you moisturise your skin regularly, the plaque scales become less noticeable. Use the heaviest, greasiest moisturisers (containing lactic acid) which can help the skin to retain water or you can choose cooking oils, lard, and petrolatum for this purpose.
Raise the Humidity
If you have psoriasis, dry indoor air will make your skin drier and you wouldn't like it. Use a room humidifier to raise the humidity of the room you usually use.
Be Attentive about Medicine Reaction
Some medications like antimalarials, beta blockers (such as Inderal), lithium, and others, can worsen psoriasis in some people. Tell all your doctors about your skin condition and discuss with him about a possible solution for a current medication that seems to be aggravating your psoriasis. He could prescribe a reduced dosage or alternative medication.


Be Choosy about Soaps
Harsh soaps can dry and irritate the skin and increase itching, so opt for a mild soap instead. Many mild "superfatted" soaps that contain moisturizers are available. A soap-free cleanser is also a good option.

If you are not sure about how to get rid of psoriasis fast by choosing the correct soap, ask your pharmacist or skin doctor for recommendations.
Choose Skin Products Carefully
Psoriasis causes the skin to be unusually susceptible to irritating substances, so use products such as hair dyes, perms, or straighteners with caution. Use potential irritants only when your skin is relatively free of lesions, and avoid them altogether if you have open wounds.

This list of "how to get rid of psoriasis naturally" will remain incomplete without us telling you that you must avoid even mildest injuries to your skin when your suffer from psoriasis. Even mild injuries such as sunburn, scratches, and irritation from tight clothing can cause or worsen psoriasis. So stay away from them for a speedy psoriasis natural treatment.

Image Courtesy: Getty

Read more articles on Psoriasis Treatment.