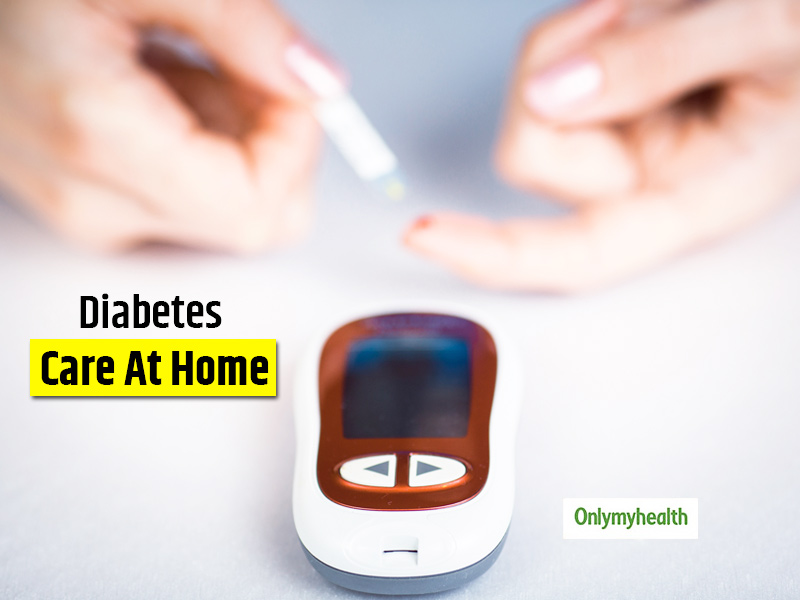 The prevalence of diabetes has been gradually increasing around the world due to factors such as a sedentary lifestyle, and habits like smoking and drinking, apart from a family history of the condition. Estimates suggest that it will affect approximately 5.4% of the world's adult population by the year 2025. Dr Vishal Sehgal, Medical Director, Portea Medical explains how healthy lifestyle and basic modifications in diet can help make a difference in diabetes management at home. There is a need to raise awareness on the importance and benefits of counselling for improved outcomes in those living with diabetes.
What Is Diabetes?
Diabetes is a chronic ailment that decreases a person's lifespan and quality of life due to the incapibility in production of insulin in the body. Managing diabetes requires lifelong care and certain cognitive, attitudinal and behavioural changes. The management of this condition not only requires the prescription of an appropriate pharmacological regimen by a physician but also nonpharmacological measures, intensive education, and counselling of the patient for better glycaemic control.
What Goes Wrong In Diabetes Management?
The major issue here is the lack of knowledge pertining to diabetes management and the care of patients. Despits the cloud of information available on diabetes, there is a need to step up in proper management of diabetes in this pandemic time. Some long-term micro and macro vascular complications of diabetes can harm the brain, heart, kidney, and eyes. Little do we know that improper care of diabetes can lead to various healtjh complications including retinopathy, nephropathy, neuropathy, end-stage renal disease and non-traumatic lower extremity amputations. The International Diabetes Federation (IDF) names self-management and permanent support as the two important components that can impact metabolic and psychological consequences.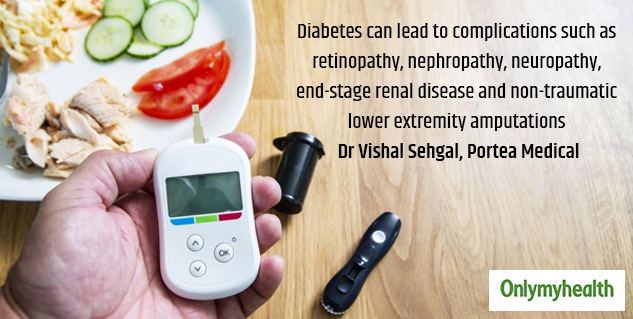 Also Read: Understanding Symptoms, Causes And Tips To Manage Type 2 Diabetes
Diabetes Home Management Tips
Listed below are some tips that can help in diabetes management at the comfort of your home:
A healthy meal plan
It is important to consume a balanced diet with lots of fruits, vegetables, low-fat dairy products, lean meat, and protein. Carbohydrate intake should be limited for better control over blood sugar levels. One should also stay hydrated since that aids good metabolism.
Exercise every day
At least 30 mins of brisk physical activity such as walking, running, or anything else can not only lower sugar levels but also prevent weight gain, prevent heart complications, etc. Find activities that are appropriate based on your health parameters and advice from specialists.
Foot care is important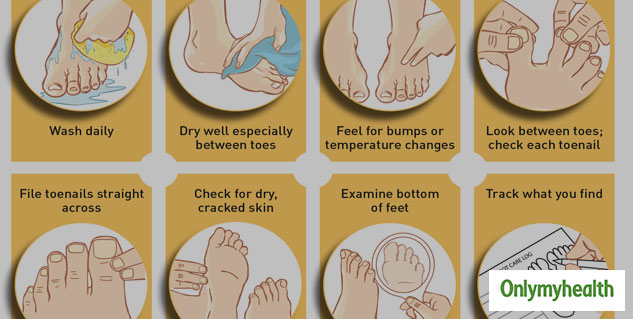 Diabetes can damage blood vessels if not managed properly and the most affected part of the body due to this are the feet. Foot care is therefore one of the most important considerations in people with this condition. Hence, diabetes foot care management tips are a must to follow. Make sure to clean your feet everyday and look out for any bruises or wounds. Wear shoes that cover the feet but are also breathable with comfortable cotton socks.
Monitor Sugar Levels
It is imperative to monitor blood sugar levels regularly. Always ensure that you carry a portable kit and other essential items when travelling. Nowadays it is possible to monitor blood sugar levels at home with the help of home healthcare providers. They have a panel of experts who not only help in managing the condition but also advice on what is to be followed.
A recent study shows that monitoring diabetes patients at home can lead to an improvement in the level of compliance and therefore overall health. It also has a positive effect on parameters such as weight, blood pressure and postprandial blood glucose. There are good diabetes care and management plans made available by at-home service providers to help patients with developing self-care and problem solving skills; improving foot-care techniques and healthy eating habits; maintaining ideal body weight; and ensuring a regular exercise routine.
WATCH: How To An Insulin Pen:
Also Read: Do's And Don'ts Of Food Items For Hyperglycemia By Diabetes Educator Swati Bathwal
Making individuals understand the likelihood of diabetes being transmitted to the next generation and the complications it can cause to their own health is the first step towards leading them to take immediate action. Hence, follow these essential steps mentioned in the article and see how diabetes can be easily managed even at the comfort of your homes.
With inputs from Dr Vishal Sehgal, Medical Director, Portea Medical
Read more articles on Diabetes