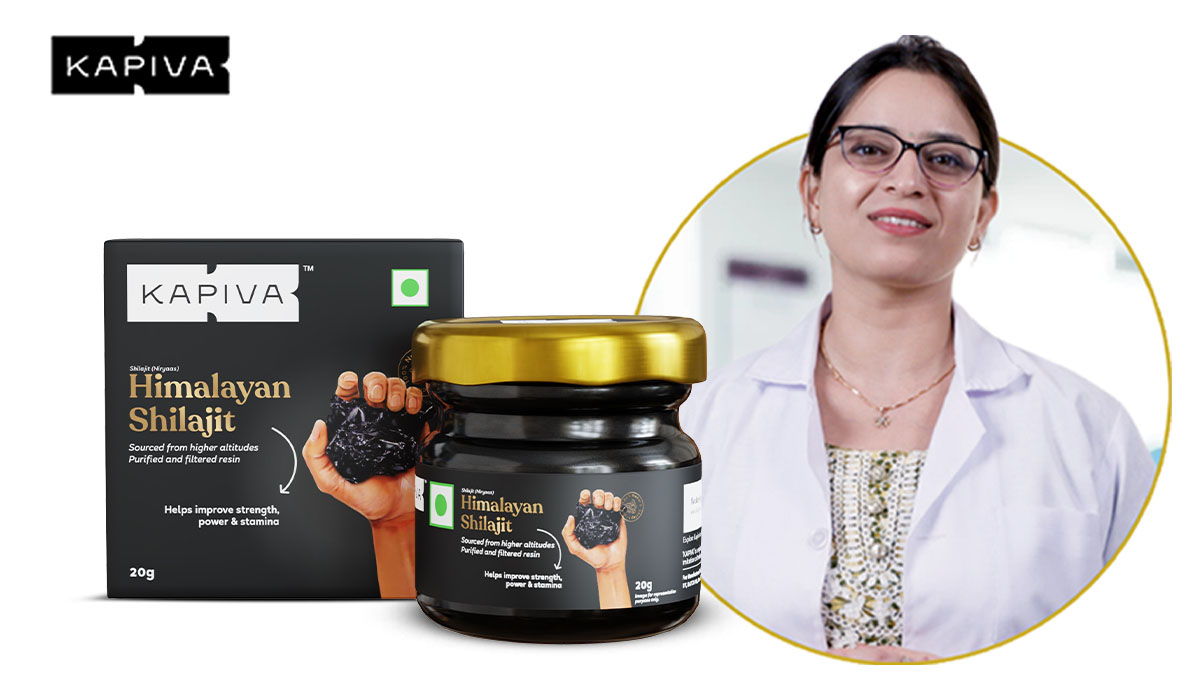 Kapiva, a research and science-backed modern Ayurvedic brand, offers you 100% pure Shilajit sourced from 18,000+ ft from the Himalayas and refined through a 7 step ayurvedic shodhana process.
Shilajit taken from 18000 feet of Himalayas will remain in its purest form and the Kapiva team certifies its purity and safety. This is because Shilajit undergoes a rigorous purification process to make it free from heavy metals and safe for consumption. This is called the shodhana process. Kapiva says that each batch of Himalayan Shilajit is similarly tested for purity and comes with a lab test report.
Shilajit contains more than 80 minerals in small amounts. It boosts the immunity of the body and is beneficial for mental and physical health.
"At Kapiva, we source 100% pure Himalayan Shilajit from 18000 ft altitude regions, ensuring the most potent nutrient quality. We also produce lab purity test reports with every batch of Shilajit. Finding 100% pure Shilajit is difficult, but we ensure purity by following rigorous Ayurvedic processes to make sure you get maximum benefits." -- Dr. Kriti Soni, Kapiva Academy of Ayurveda
Test the purity of Kapiva Himalayan Shilajit Yourself!
Kapiva's 100% Authentic Shilajit can be tested in two ways:
Solubility
When put in water, the Shilajit gets dissolved slowly but completely while impure shilajit doesn't dissolve at room temperature. This is an indicator of the purity of Shilajit.
Flame Test
When placed over a flame source, pure Shilajit will expand.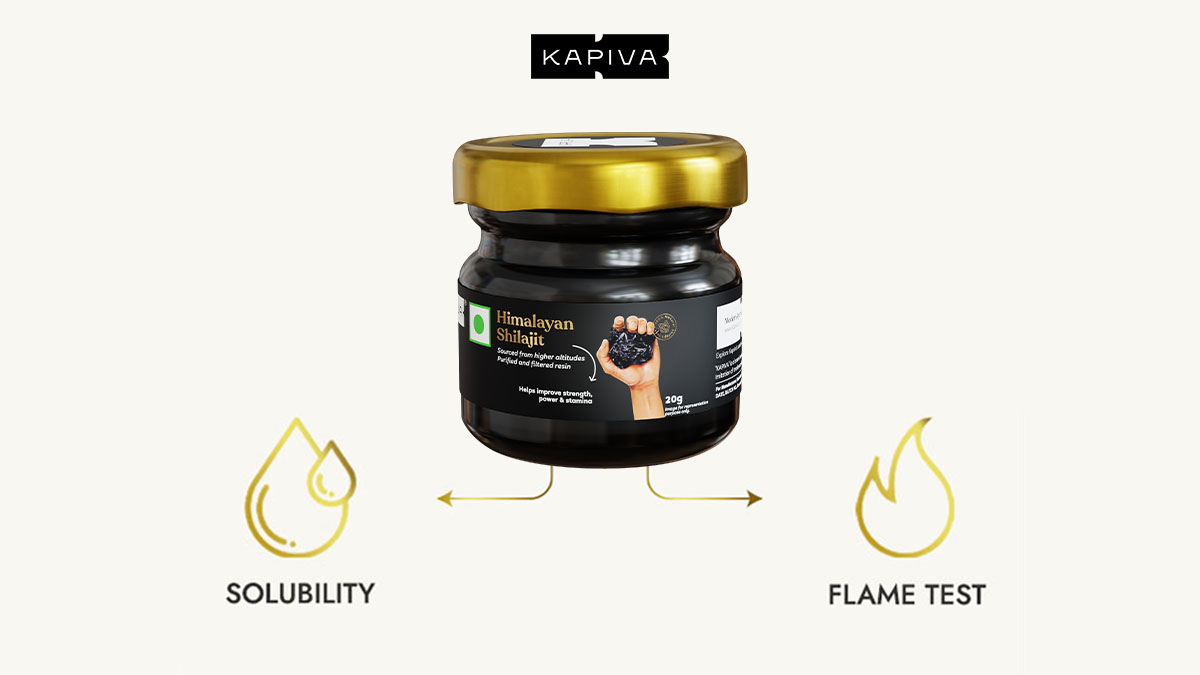 Benefits of Kapiva Himalayan Shilajit:
Kapiva's 100% Pure Himalayan Shilajit is rich in Fulvic acid which regularly helps boost testosterone levels. In addition to this, it also shortens the negative effects of exercise like muscle soreness and improves muscle recovery. Kapiva Himalayan Shilajit also boosts your sex life and helps increase overall confidence.
Kapiva Shilajit Gold Resin - 5X more powerful than regular Shilajit
Kapiva's Shilajit Gold Resin helps achieve daily wellness with 100% Pure Himalayan Shilajit and a blend of 24 Karat Gold, 183rd day harvested Nagori Ashwagandha, Gokshura, Haldi and Safed Musli.
Recommended for daily consumption, here are some key benefits of Kapiva's Shilajit Gold Resin:
Boosts testosterone & sperm quality in 4 weeks*
Improves stamina by 15% in 5 days*
Aids muscle recovery in 10 days*
*When consumed in prescribed dosage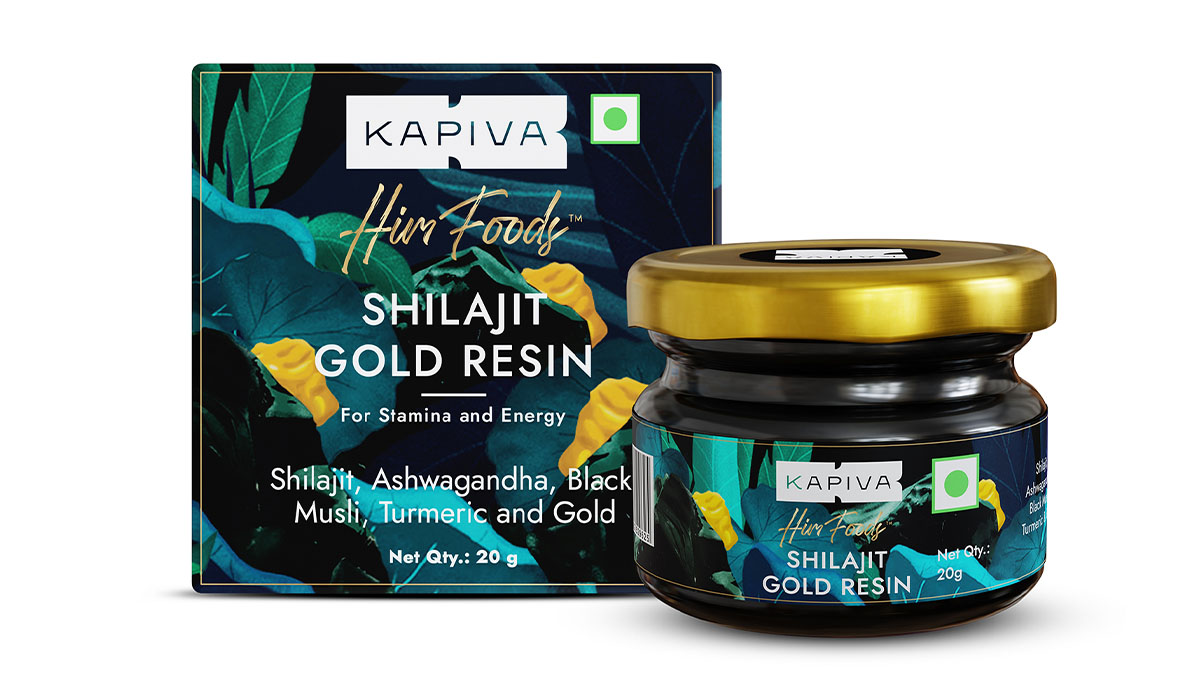 Experience a stamina and energy boost in natural and stress-free ways with Kapiva's 100% Pure Himalayan Shilajit along with Shilajit Gold Resin.