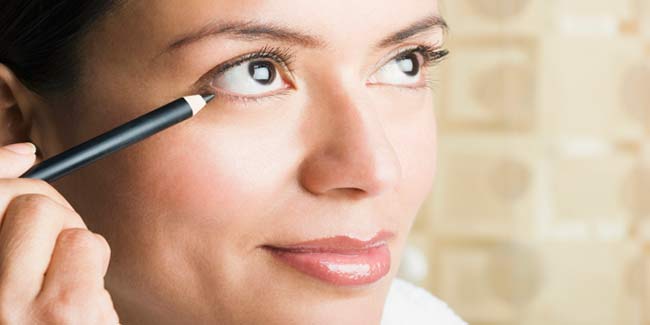 Eye make-up items come in various forms including mascaras, liquid eyeliners, pencil eyeliners, powder or cream based eye shadows, and false eyelashes. However, the trick lies in mastering the art of applying them properly for attaining the desired look.


When it comes to make-up applications, practice will surely help in achieving perfection. However, following some sequential steps could help a great deal in getting there faster. Amongst all, learning to apply pencil eyeliner is probably the easiest. A pencil eyeliner is far easier to manage than a liquid eyeliner. This is probably because chances of smudging are lesser for pencil eyeliners. Liquid versions might sometimes be difficult to manage.

When you plan to master the skills of applying pencil liner, make sure to start with simple things and basic products. If applied properly, pencil eyeliner can succeed in making your eyes look much larger and more defined than they actually are. Therefore, if you have particularly small eyes, this could be one of the most viable solutions for enhancing your looks. Some practical tips can come in especially handy to help you in learning how to apply pencil eyeliner.


Simple Sequential Steps
An easy guide to apply pencil eyeliner the perfect way would include the following sequential steps:
To begin with, you need to buy an eye pencil of a suitable colour which complements the colour of your eyes. Eye pencils need not necessarily be black; they are available in many funky colours. For example, a charcoal or navy blue liner will look great for the blue eyed ladies! You need to find your pick.
It is always better to seek a few samples before you can actually buy a particular brand of liner. Check it by using a sample on the back of your palm and see how much pressure you actually need to apply for leaving a consistent mark. Choose one which does not require too much pressure. The softer it is the better.
Next, you simply need to close your eyes one by one, firmly. Do not pull or tug at the eyelashes to keep it shut. Now draw a line with the eyeliner as close to the eyelashes as possible. Start from the upper inner corner of the eyelid and gradually draw till the outer edge. The line should progress from thin to thick. You can also try achieving this with the help of short gradual strokes, instead of drawing the complete line at once.
Follow similar instructions to draw the line along the lower eyelash too, moving from the lower innermost corner to the outermost.
If you would like a softer look, simply smudge the eyeliner line. You can use the back side of your pencil for the smudge. This is also known as the smudge tip. Alternatively, you can also use your finger for the same purpose. Just use gentle strokes to create the desired impact.

Learning to apply pencil eyeliner is a simple process. You just need to follow the steps properly for desired results.
Read more articles on Eye Make-up.