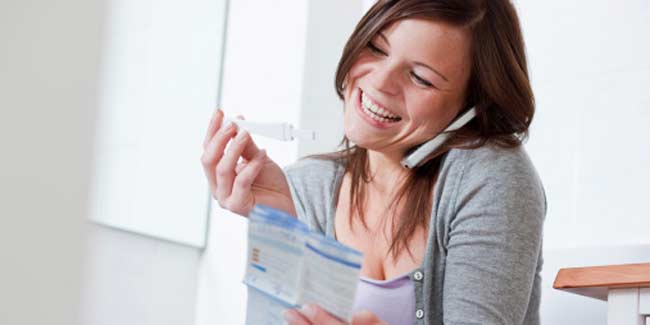 Excited to welcome your third baby, but confused how to announce it to family and friends? You may find the ideas in the article both helpful and interesting.
Your third pregnancy is probably no less important than your first two pregnancies. The flurry of emotions of welcoming a new baby in the family remains the same. Even if your relatives and friends do not share the same enthusiasm as they did when you first disclosed your pregnancy, you shouldn't let your plans of welcoming your third child dwindle. Once you have decided when to break the news of your third pregnancy, you will be on a lookout for ideas to announce it. Take a look at the ideas listed for you and announce your pregnancy with us.
Involve the Future Big Brother/Sister

Disclose your pregnancy to both your kids. They'll be delighted to be the first ones to know. Moreover, they'll show the enthusiasm that your family and friends might not express. You can involve them and make your pregnancy announcement fun and creative. Plan a family get-together and make your kids wear t-shirts stating that read 'soon-to-be Big Brother' or 'soon-to-be Big Sister'. Your family members will surely not take much time to figure it out.

Capture the 'Oh! Again' Expression
Wrap up your family dinner with a family picture! The idea of clicking a family picture might sound old, but capturing the 'oh-my-God' moments will be thrilling. Hold the camera and get your family members to pose. For the first picture, ask them to "say cheese" and for the second click, ask them to say 'I am pregnant". Capture the expressions of confusion, surprise and joy and save this memorable picture for your 'soon-to-be arriving' baby to see and laugh later.
'Baby-on-board' Announcement
If your family and friends are not close by or it isn't feasible for them to drop by your home, you can send them personalised gifts. Get a few chocolates prepared on order with 'I'm Pregnant' written on them. Get them packed in gift boxes. Send one box to each of your relative's place with a card mentioning your name. Soon you'll be flooded with excited calls and texts; A few might even come and visit you.
Send 'I'm on my way' Card
Your parents and in-laws will be equally happy to know about the arrival of their third little grandchild in the family. Instead of calling your mom and breaking the big news after usual greetings, you may mail an 'I'm on my way' card to your parents. Inside the card, write Nana/Dada, meet you in nine months or mention your due date. They will be elated and might be on your doorstep within a few hours.
Remember that celebrations always get better when your loved ones are around you. No matter which idea to announce your third pregnancy you pick, make sure you inform all the important people in your life.
Image source: Getty Images
Read more articles on During Pregnancy.