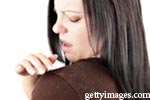 If you observe flakes of white powder-like particules on your scalp or shoulder, you are most likely suffering from dandruff. Discover why it happens and other signs of the problem.
Dandruff is the most common and widely discussed scalp disorder. Almost all of us have experienced it at some point in our lives. Dandruff is an outcome of a cell renewal process. As the cells of scalp continue to renew themselves, the dead cells are pushed up to the surface. These are the visible dandruff flakes that we see. In those affected with dandruff, the renewal process takes place really fast. Aggravation in the condition takes place either when the scalp is exposed to extremes of temperature or when there is a lack of hygiene. Symptoms of dandruff must also be understood well before attempting treatments.

Some Common Symptoms of Dandruff
The most common symptoms of dandruff include the appearance of white flakes on the scalp and on the hair strands. These will either be visible from the top surface or may be seen clinging to the scalp, loosening when combed. Excess of dandruff can also fall from hair at the slightest movement of the strands or after a vigorous comb.
The fact that dandruff affects dry scalp conditions more is a myth. In fact, dandruff is more prevalent in oily and dirty scalp conditions. Therefore, the flakes will be oilier in nature than dry. In fact, oily patches will be commonly visible in a scalp infested with dandruff.
Most often, dandruff will also be accompanied by intense itching of the scalp. Typically, itching will occur in places where patches of dandruff are present and will loosen out when scratched. Furthermore, you may also experience tightness in the scalp when you are affected with dandruff.
Dandruff can also result in a tingly feeling in the scalp, which may trigger itchy spells. There may be patches where deposits of dandruff will harden and result in extreme itchiness. Once these patches are dislodged, the particular area of the scalp will become sore and may even bleed in certain cases.
Crusting and scaling of the scalp can also lead to painful rashes as a result of excessive itching or scratching.
Often, loose flakes of dandruff that fall from the scalp may be the cause of skin diseases on the face and forehead. This may give rise to skin rashes and white patches on the skin.

Although, dandruff happens to be a common problem, an apt cure for the same is yet to be found. There are several ways to control and manage the problem, but none can do away with it completely.
Read more articles on Dandruff.