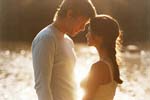 Let yourself know whether cupid has struck you lately or it's just another infatuation.
If you think you have met your "special one" and keep wondering about her all day long, but you still don't seem to be sure of your feelings, follow the tips given below. These will help you to figure out whether cupid has struck you lately or it's just a bit of infatuation.
[Read: Stages of a Dating Relationship]
Other priorities take a backseat

When company of your friends, night parties, family dinners and job become boring and messaging or calling her become the most important of all, then undoubtedly, fever of love has shown its effects on you. Before meeting her, you'd be hitting the gym religiously, but now for a date with her, you don't mind missing a workout. You have stopped enjoying your "free-time" and being without her seems to be a distant idea.


When she is on your mind all the time

No matter whether you are in your office, mall, supermarket, kitchen or car, she captures your thoughts and it does not disturb you at all. Without any apparent reason, when her thoughts pop into your head and they mess with sense of all your duties and obligations, it's a signal that you are developing feelings for her. In such a situation, you may be wondering if she thinks about you or not and if she thinks, then what or how often in a day. You may also find her to be the last thing on your mind before you go to bed and the first thing on your mind after waking up.
[Read: Signs that a Girl likes you]
When other women go unnoticed

It's hard to restrain yourself from giving a look to a beautiful woman when one walks by. But when you're in love, all other beauties seem to slip under the radar and your "special one" remains incomparable. All seems pale and dull when she is around. Did you flirt like Casanova once but don't seem to do the same now? She is your only eye-candy now and you fancy no one else. Well my friend, this is love!



You don't mind compromising


Once you used to fight with your parents for a night-out with your friend circle. Now, even without her asking you, you are ready to miss that opportunity just to spend some time with her. Apart from this, you obey her and don't mind including her in your plans or making changes to accommodate her. This may anger your friends, but you don't seem to care at all!


You suddenly become a future planner

When your conversation with your partner starts sliding towards future planning even when you don't mean to, you may be in love. It's spontaneous and you start discussing your future together without thinking about its significance. Love is indicated when you wish to take a step further after your courtship. The usual topics of discussion remain marriage life, planned parenthood, financial planning and analysing yourself and her as man and wife.
Read more articles on Sex and Relationships.