Glances and smiles from a girl you are interested in first sign that she likes you, but it might not be the case every time. It is often difficult for a man to know what's going on in a female's mind. If you want to know, pay attention to these signs that may imply that she likes you.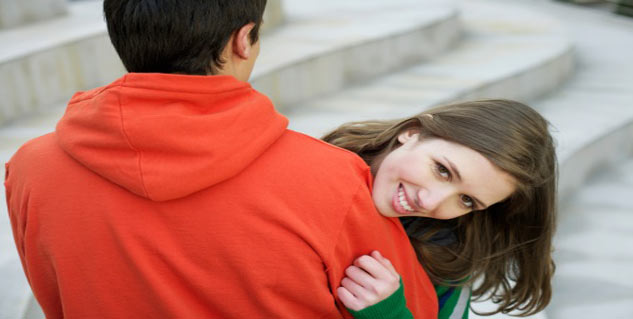 Regular chit-chats
Chit-chatting with you and making an effort to know more about you are indicators of her interest in you. While chit-chatting, she will mostly be shy and will tone her voice softer. She will laugh at your stupid jokes, but don't make jokes only to test whether she likes you or not.
Telling you secrets
A girl fancying you will tell you things that she won't tell anyone else. She will trust you over other friends of hers, which is a clear indication that she fancies you. She will ask for advices and opinions on almost every issue.
Invitations for movie or hang-out
If she makes plans to spend time with you, she likes your company. She will also involve you in her plans with friends to spend a few hours in your company.
How she looks at you
A girl fancying you will immediately smile at you when you start a conversation. She may not express strong emotions or say at first, but she will look at you curiously, listening to you with 100 per cent attention. Dilating eyes is another indication that she is into you.
Behav friends
If you find her friends giggling and smiling at you when you are with her, she has probably told them about you. When you're the topic of discussion among her friends, she likes you.
Observe her body language
She may use gestures to tell you what she thinks or feels about you. An open body language implies that she is confident to talk to you whereas a closed body position (crossed arms or legs) indicates that she is uncomfortable.
Start off as a friend, which will give you further chance to know her and connect with her. Don't be in a hurry to assume that she really likes you. Instead, give her some time to make it straight to you about what she really wants. Be careful not to think too much; over-analysing her behaviour and actions can land you in the trouble-zone. Also, if she comes to know that you are keeping her at close watch, she may get annoyed.
(Image:Getty)
Read more articles on Relationship Advice.