There is no known way to prevent tennis elbow in everyone. Some measures which may help to prevent tennis elbow from developing, prevent its reoccurrence or prevent the worsening of symptoms have been listed below. Take a quick look and find out how you can keep away from excruciating pain of a tennis elbow.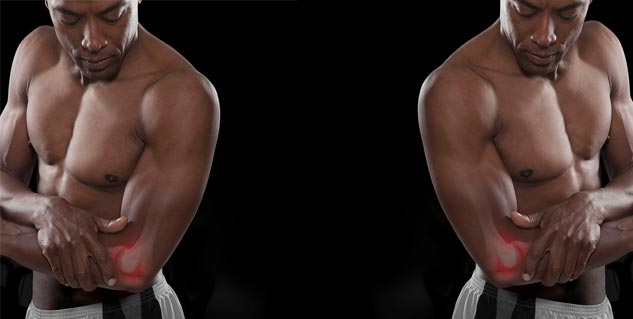 Read: Natural remedies for Pain Relief


Do exercises
The best way to prevent tennis elbow is to do exercises which stretch and strengthen your arm muscles. This can help to make the muscles and joint flexible and strong enough for you to perform physical acivity. A physical instructor can teach you some warm-up exercises, stretching exercises and strengthening exercises for tennis elbow. Exercises to strengthen the muscles of your arm, shoulder, and upper back can help to decrease stress on your elbow.
Read: How to Treat Tennis Elbow
Be physically active
Doing exercises for about 30 minutes on most days of a week can help you to stay in good physical shape. This makes your muscles and joint fit and less prone to injury. Remember not to exhert yourself. Use of correct techniques and movements during activities is important to prevent injury. A physical trainer can guide you regarding exercises that are good for you.
Know your equipments
Use equipment at work and gym that are appropriate for the severity of your condition, ability, body size, and body strength. Overusing your arm with repeated movements can injure your tendon and cause unnecessary pain.
Wear a brace
Wearing counterforce brace while doing activities that require grasping or twisting arm movements can help distribute pressure from elbow to throughout the arm, easing pressure on the tendon. It is not used as a preventive measure but is useful for people who are at very high risk for tennis elbow. Use a brace after consulting your doctor. Do not use it as a substitute for physiotherapy.
Read: How Long does Tennis Elbow take to Heal
Avoid activities that cause pain
Avoid activities at your workplace or leisure activities that may cause elbow pain or soreness. If needed seek to change equipment or your job assignments. Besides this, learn techniques that won't stress your elbow.
Learn your sport
Try to take lessons in order to learn the proper techniques of playing certain sports such as tennis and golf, that require grasping and twisting motions in the arm. Consult a sports trainer or a person who is familiar with sports equipment to make sure that the sport equipment you use suits your level of ability, body size, and body strength.
Image Source: Getty
Read more articles on Tennis Elbow Lateral Epicondylitis.