A lot of people find Oats boring but they are a great food to include in your diet if you are thinking of weight management
This post shows 7 brilliant ways to eat Oats!
One of the best ways to kick start weight loss and take that first step towards fitness is including fiber in your diet. Oats are a very good source of fiber. Sounds like a no brainer that one needs to include Oats in your diet. Ironically most people are hesitant to do so. The problem with oats is that we have grown up eating it in a boring porridge day after day and somewhere it has created a mental block for us. I don't know about you but this is completely true about me. So let's change that perception a bit.
In this post let's look at 7 easy and delicious ways to eat Oats for 7 days in the week. These recipes will have you hooked to oats and be the fabulous kick start to your weight loss journey.
1. Give Porridge a facelift - Yes, I know we spoke about porridge being boring, so how about giving porridge a gourmet facelift. Think about the interesting flavour additions like tahini, pesto, egg, peanut butter or that homemade jam that your aunt gave you. Your imagination is really your limit.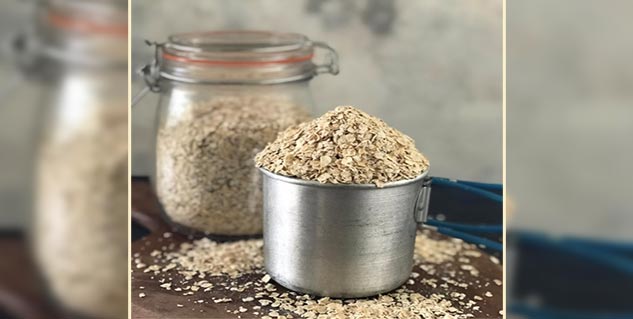 Recommended Recipes -
Lemongrass Oats Pudding with mixed berries
Savoury Oatmeal Porridge with vegetables
Garlicky Oats with Masala Fried Eggs
2. Make Dhokla - Yes, that delicious Gujarati snack that has taken the world by storm. Oats make a very interesting and healthier variation of it. And guess what, it even makes the elders in the family happy.
Recommended Recipe - Instant Oats and Rava Dhokla
3. The South Indian Breakfast - I love idly and dosa and so does my whole family. One of the biggest challenge I face when on a weight loss diet is the fact that I cannot cook separate food for myself. Imagine, my families reaction if I give them oats every day for breakfast? Adding Oats to my idly and dosa is a solution that works like magic. Family bhi happy, main bhi happy.
Recommended Recipes -
Instant Oats Idly
Oats Dosa
Oats Upma
Oats Paniyaram
4. Put them in your rotis - Roti is pretty much a staple dinner for us. Five times a week we eat roti, sabji, dal and salad for dinner. And I have realised that replacing some of the whole wheat flour with ground oats or oat bran goes a long way. I use a 1:4 ratio for my standard rotis and the rotis are still nice and soft.
Recommended Recipes -
Stuffed Peas Parantha with Oats
Cabbage and MethiParantha with Oat Bran
5. Replace other carbs with them - Think of recipes which have wheat or even mushy rice and you can easily replace that with Oats. Think khichdi, curd rice, tomato rice or for that matter even Haleem.
Recommended Recipes -
Oats Haleem
Oats Curd Rice
Oats Khichdi
6. Make energy bars - Energy bars is one thing I always have in my pantry. I find them great snack options for the time when one tends to eat unhealthy stuff. They make great post workout meals and even good breakfast on the go. And oats make a great addition to them.
Recommended Recipes -
Oats and Millet Granola Bars
Coconut and Pumpkin Oat Squares
7. Put it baked goodies - Baked goodies - cookies, breads, tarts, pies, cakes and the list is endless. With oats, there is no need to deprive yourself of that goodness. Oats make it healthy and delicious.
Recommended Recipes -
Whole Wheat Oats Pesto Bread
Baked Oatmeal
Chocolate Apple Oats Cake
Oat Bran Muffins
Oats and Yoghurt Tart
So now that you have 7 brilliant ways to include oats in your diet and many recipes for that. What are you waiting for? Take the plunge now towards weight loss and fitness. Say yes to Oats and if you do, let me know how it went.Tag #sinamon on Twitter, Instagram or Facebook. I would love to hear from you
Blogger: Monika Manchanda
Disclaimer – The Author Monika Manchanda is a known food blogger at https://www.sinamontales.com and contributor with Onlymyhealth. The views expressed are her own and may not necessarily reflect the views of OMH