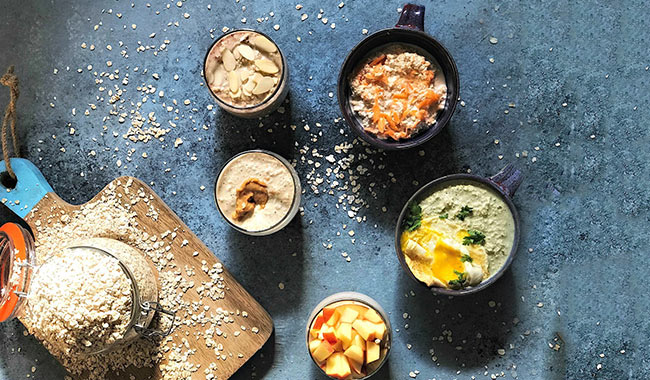 Overnight oats is a simple yet wholesome first step towards living and maintaining a healthy lifestyle.
Our hectic work life doesn't go hand-in-hand with healthy aspirations of those who want to attain wellness through good nutrition and exercise. Gone are the days when a plate of good breakfast would be awaiting us and we would savor it, as a result we rely on junk food which is easy to fetch and consume. This unhealthy lifestyle of urban class has lead to overweight problems which is a serious threat to many diseases, not worth mentioning.
To keep a check on our weight without compromising on the busy lifestyle, one must think of smart and healthy alternatives.
In the hustle bustle of work, home, kids, and social life, one thing that unfortunately takes the backseat most often is our own health. I am no different either, my weight is way above its target and regular readers of this blog would know that I have been making many constant changes to my lifestyle and eating habits.
Sometimes I am perplexed to the extent that I do not understand where to start from. I keep making meticulous plans on completely overhauling diet, or work out 5 times a week. Such huge plans fall flat soon. Usually it is the first step which is the hardest.
For me, I found the easy first step was to look at my breakfast and include some oats in it. And after experimenting with many things, I found overnight oats an interesting option. Finally, I found one of healthy partner – oats that helps in weight management
Overnight Oats
So let's look at what are overnight oats?
Overnight oats as the word suggests are plain oats which are soaked over the night in milk/ coconut milk / curd or simply water. Add toppings of your choice next morning and your healthy breakfast is ready keeping your weight perfectly balanced.
Never did breakfast seem so easy before. Wish I had this secret potion before.
Sharing some interesting recipes for overnight oats
Soak 1 cup of Horlicks Oats with 1 cup of water and 1 tbsp of curd.
The overnight soaking and addition of curd creates a little fermentation which is great for gut health and helps in weight loss.
So here are my five favorite ways of making overnight oats.
Peanut Butter & Banana Overnight Oats
1 cup soaked overnight oats
1/2 cup milk
2 tsp peanut butter
1 sliced banana
1 tsp chia seeds
Apple Cinnamon Overnight Oats
1 cup soaked overnight oats
1/2 cup milk
1 apple chopped
1 tsp cinnamon powder
1 tsp honey
Mocha Almond Overnight Oats
1 cup soaked overnight oats
1/2 cup milk
1/2 tsp coffee powder
1 tsp cocoa powder
1 tsp almond flakes
1 tsp honey
Kosambari style overnight Oats
1 cup overnight oats
1/3 cup grated carrot
1/2 cup yogurt
for the tadka
1 tsp oil
1/2 tsp mustard seeds
1 red chilly
salt
curry leaves
Pesto & Egg Overnight Oats
1 cup soaked overnight oats
1/2 cup milk
1 tsp pesto
1 sunny side up egg
So don't fret, try these overnight oats and take the first step towards weight loss.
Blogger : Monika Manchanda
Disclaimer - The Author Monika Manchanda is a known food blogger at https://www.sinamontales.com and contributor with Onlymyhealth. The views expressed are her own and may not necessarily reflect the views of OMH