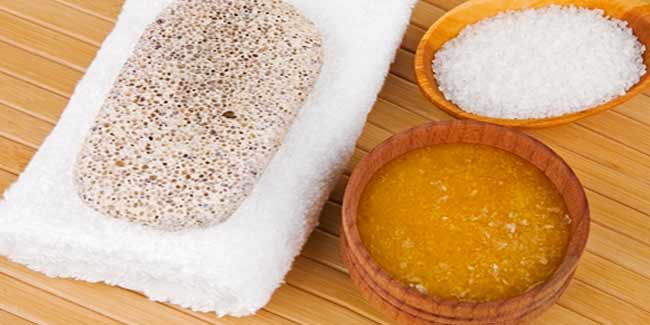 Exfoliating your skin is a good exercise for a healthy and clear skin, learn some homemade recipes that could help you to scrub your skin for exfoliation.
A good facial scrub can help to prevent breakouts and exfoliate dry skin besides making your face clean and renewed. The good news is that you can make your own facial scrub at home, this way you know that there aren't any added chemicals and you will also save money. Here is a guide to making some facial scrubs at home that would help to exfoliate your skin.

Green tea, Sugar and Honey
For this you will of course need green tea, sugar and honey, and then follow these instructions.
• Brew a mug of extra strength of green tea, as it is believed to have anti aging effects when applied to the skin, it also reduces wrinkles and blemishes, and can even repair scar tissue. You can use lose green tea for best results rather than a bag of it. You should go with plain tea if you are going for the bagged variety, do not pick the flavoured ones.
• Now pour a tablespoon or two of green tea in a bowl and allow it to cool, and then add sugar into this tea. You must continue to add sugar until the mixture has a consistency that is gritty enough to scrub on the skin. But it should also be wet enough so that you can apply easily.
• Then you must stir a tablespoon of honey into this mixture and stir them thoroughly, the honey would help to moisturize, and it contains anti bacterial property.

You can store this mixture in a glass jar and tighten it with its lid, and then keep it in a cool and dry place. This mixture should last for several weeks.

Coconut Oil, Sugar and Honey
• Take 1/2 a cup of coconut oil and pour it into a bowl, you could also use olive oil, almond oil, or grapeseed oil. You must however avoid peanut oil, canola oil, and vegetable oil as these have strong smell that will not allow you to experience the pleasure of a facial.
• Then you must add two tablespoons of sugar to the bowl and stir them until it has a gritty and spreadable consistency.
• Then you should add a tablespoon of lemon juice to the mixture as this will increase the properties of the scrub.

You can apply this scrub all over your face after washing it well. Rub the scrub all over your face and concentrate on your spots that are dry, and then later use a wet washcloth to remove the scrub, and splash cold water over your face when you are done.

Coffee Scrub
Here is a treat for your skin, and that comes with espresso flavor. This is because coffee is a great exfoliant as it contains caffeic acid which has anti-inflammatory effects and can boost collagen production. Coffee, much like how it stimulates your body in the morning, it can also serve as a stimulant.
• Combine one tablespoon of water or olive oil with one tablespoon of ground coffee. You could save the wet coffee grounds from your brewed morning coffee and use the same.
• In case of using olive oil you can skip applying moisturizer afterwards, otherwise do so when using water.

Apply the mixture onto your skin nicely, and wash after leaving it for some time.

Read more articles on Skin Care