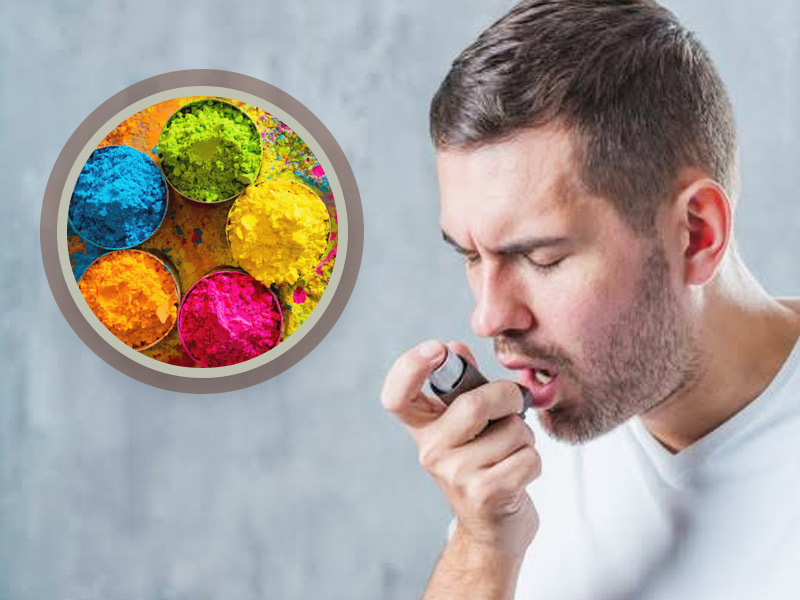 Holi is a festival of colours and happiness. Everyone loves splashing buckets of water and loading each other with different colours (gulal), which shows their enjoyment of the celebration. However, this festival can sometimes be a danger for people suffering from some various health conditions. There is always a risk of the the toxic substances in colours going into your mouth, nose, ears, etc. Particularly people who are suffering from asthma have to face a bigger problem. Even on the eve of Holi, people living in the same societies or close to each other light up a huge bonfire together (piled wooden logs) that also develops a lot of smoke and harmful ashes in the air. The most negative impact is that the bonfires mostly keep burning the whole night, even increasing the chances of more and more smoke particles to damage the lungs, making breathing very difficult.
Artificial colours and specifically the dry colours that are used for playing Holi. These contain toxic chemicals and kerosene present in them that can cause an asthma attack. All conventional colours contain harmful substances that can lead to several health problems, including aggravating the symptoms of asthma. Asthma and allergic rhinitis patients have to follow their basic care tips and take small steps to prevent any harm or damage to the lungs. Read further to know about some pre Holi care tips to prevent asthma attacks from colours.
Holi tips for asthma patients
Managing your health while enjoying festivities should be your first priority. People who have asthma should take necessary precautions to protect themselves from attacks on Holi. Therefore, here are 9 pre Holi tips for asthma patients to prevent asthma attacks:
1. Wear a scarf or face mask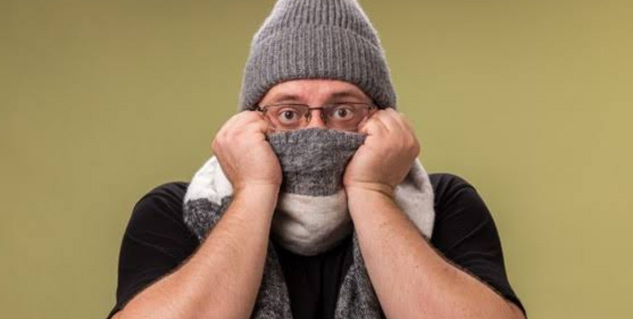 Patients suffering from asthma or otherwise should definitely wear a mask or a scarf around their face, while playing holi. You should make sure that the nasal and mouth cavity should be covered but it should be a breathable material. It will effectively help you to avoid inhaling harmful particulate matter, hence it prevents asthma attacks. It can also prevent allergies and breathing problems in healthy people due to smoke and dry colours in the air. Moreover, due to the widespread of Corona virus, it is always best to wear a mask.
2. Avoid exposure to smoke and pollutants
If you are asthametic and recently had an attack, you should take special care of yourself. You must avoid going out on roads. If it's very urgent, you should always take care to wear a mask. Old people should keep their windows closed to avoid the pollution from getting into your rooms, installing air purifiers is also proved to be of great help as it overall decreases the chance of asthma attack. Holi Eve is celebrated with Holi dehen (huge bonfire), so you can try and avoid joining that by staying indoor for a few hours. This will also protect your lungs from any smoke or pollutants.
Also read: Asthma Treatment: 10 Homeopathic Remedies To Heal The Inflammation Of Airways
3. Do not play with colours
Playing with colours also includes a little exercise which can cause second wind which in some cases leads to asthma attacks. People tend to throw dry colours in the air, which can sometimes be a problem for people suffering with respiratory diseases. Chemicals in the colours can also irritate the inner lining of our nose. One must take care of blowing and cleaning their nose thoroughly at least twice a day. Replacing colours with natural alternatives like haldi, rose powder, beetroot and various other ingredients is also a good idea, so that you can enjoy holi in a healthier way. Try playing Holi with natural and organic colours instead of artificial ones.
4. Keep your inhaler with you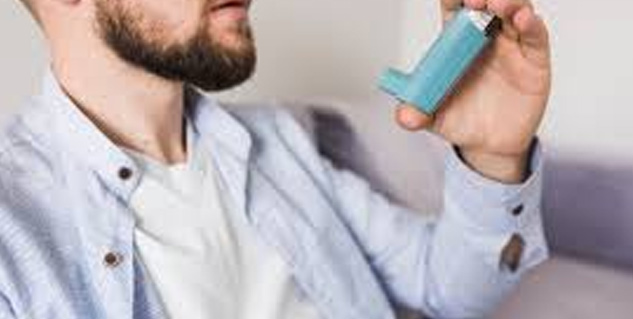 This is one of the main tips to avoid an asthma attack on Holi and generally too. An asthma patient should always keep the inhaler with themselves. Stay away from asthma triggers such as air pollution, smoke, fragrances and allergens. If you cannot avoid playing Holi, the least you can do is keep your inhaler with you and be prepared. This precaution will help you if there is a feeling of uneasiness and breathlessness. You can also talk to your pulmonologist in such situations.
5. Regular exercise
Engaging in some kind of physical activity daily will help you in maintaining an optimum weight, thus improving the symptoms of asthma in the long term phase. In fact, regular exercise will also support your immune system, helping you combat colds and flu effectively. Asthma patients should try and have an indoor workout schedule, especially when there are triggers such as air pollution and smoke outside.
6. Avoid alcohol consumption
Some people celebrate the festival of colours with full on energy by even including alcoholic drinks. Avoid consuming alcoholic drinks as they can surely lead to asthma attacks in some patients. According to some studies, red wine, white wine, cider and beer are some alcoholic drinks that have a higher chance of triggering asthma symptoms. You can replace these harmful drinks with other healthy and tasty beverages such as home made fruit and vegetable juices. You can even have thandai for your sweet tooth. Just restrict yourself from smoking and alcohol intake to prevent asthma attacks this Holi.
Also read: Pulmonologist Tips To Manage Asthma With Its Relation To Changes In Seasonal Metabolism
7. Take medicines on time
It is also best to take your long term asthma medicines on time as they are prescribed by the doctor to prevent symptoms and attacks. You have to take these medications daily, even if you do not experience any symptoms. They will help in reducing ease inflammation in your airways and keep your condition managed and under control. Therefore, it will prevent for you to have an asthma attack while playing Holi. If there are any bothering side effects of asthma medicines, then talk to your doctor about changing the course of treatment.
8. Eat vitamin D rich foods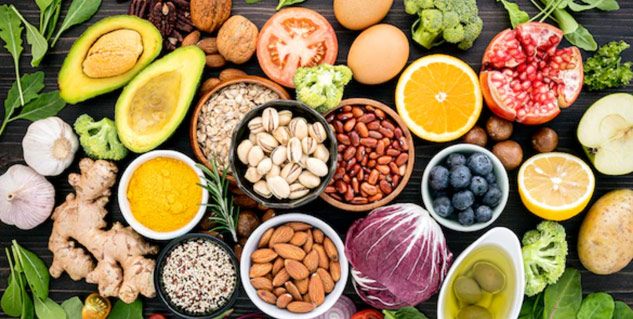 Consume a nutritious and balanced diet that can help you breathe properly and also reduce asthma symptoms. Taking vitamin D-rich foods such as fortified milk, orange juice and eggs, might be helpful in this condition as they can reduce inflammation. A healthy balanced diet is also important to reduce dizziness, nausea and other asthma symptoms. It can improve your health and prevent asthma attacks. Your diet should surely include vitamin D rich foods, especially when Holi is around the corner. Try eating foods that are rich in vitamin A, B and E. If there is a nutrient deficiency, then it puts you at a higher risk of asthma attacks.
Also read: Holi 2021: Do These 5 Things To Prevent And Protect Your Eyes From Major Damage From Holi Colours
9. Take sunlight exposure
Taking sunlight exposure is also extremely important for general overall health and for asthma patients as well. As per a study, exposure to ultraviolet rays for 20-30 minutes can be helpful in reducing the symptoms of asthma. Moreover, it also reduces the effect of any allergens on your lungs. Sunlight is good for your lungs and balanced levels of vitamin D indicate healthy lungs. However, do not sit for longer periods as heat and humidity can be difficult for your airways.
So, these were some helpful pre Holi preparation tips for asthma patients to prevent asthma attacks on Holi. You can follow these instructions and have a healthy festival without any stress and risks. And, if your child suffers from asthma, you have to be extremely careful. Always be around and make sure that your kid does not play Holi with dry colours. It should be a safe celebration accompanied with a lot of fun.
All image credits: Freepik