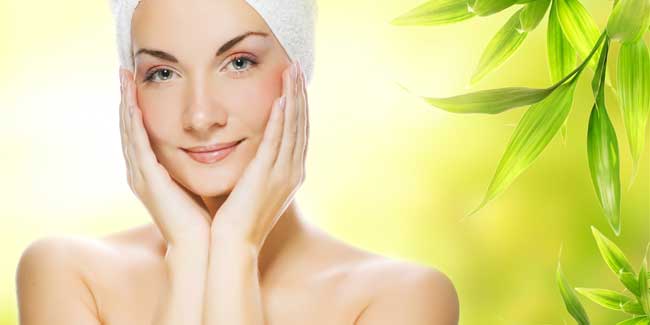 Aloe Vera has been in use for more than 3000 years for skin care. Find about some other such natural ingredients to keep your skin healthy and supple.
We are born with a beautiful skin and we must keep it that way. Pollution and age put adverse effects on our skin. But we can care for it using some natural ingredients.


Aloe Vera



Aloe Vera has been in use for more than 3000 years. Like a cactus plant, it is fleshy and succulent and yields a thick gel-like juice. It is known as 'gheekanwar', 'ghritkumari' or guarpatha' in Hindi.
Aloe Vera is a powerful natural moisturiser and seals off loss of moisture.
It softens dead skin cells and helps their removal, leaving the skin smoother and brighter.
Aloe Vera has anti-oxidant properties too and boosts the cell renewal process.
The gel obtained from the plant itself is the leaf pulp or mucilage, found in the inner portion of the leaves. The aloe juice is found just beneath the outer skin of the leaves. However, while using it directly on the skin at home, one should wash the plant well and observe total hygiene.
It can also be added to face masks. Take one tablespoon besan, one teaspoon each orange peel powder and curd and one tablespoon aloe vera gel. Mix together and apply on the skin, washing it off after 30 minutes.
Marigold Flowers (Gainda)
The marigold flower has many healing properties and has been used in skin and hair problems since the ancient times. There are references and prescriptions using marigold flowers in the Ayurvedic system. Marigold flower extracts, infusions, essential oils, etc have been used to treat wounds and cuts, due to the antiseptic action of marigold. It has a soothing effect on skin irritation. It is of benefit to oily skin and helps to control eruptions and skin rash. It has an astringent and toning effect, which reduces oiliness and closes the pores. For the scalp too, these properties help, especially in oily scalp conditions and also in dandruff. Marigold also has a fungicidal effect and has been used to treat fungal infections of the skin and scalp.
Here are some home remedies with marigold flowers
As a bath additive to moisturise body skin, take a cup of marigold flowers. Crush them with fingers and add 2 teaspoons olive oil. Blend well. Add the mixture to warm bath water.
Both cold and hot infusions can be made from the flowers for rinsing the hair. It is particularly useful in preventing dandruff. For hot infusions, the flowers should be added to hot water and allowed to stand in it for 10 to 12 hours. Strain the water and use it as a last rinse after shampoo.
For cold infusions, the flowers should be allowed to stand in cold water overnight after crushing them slightly with the fingers. Strain the water and use as a last rinse after shampoo.
To soften and moisturize the skin add honey to crushed marigold flowers and use as a face mask. Apply on the face and wash it off after 20 minutes.
Read more articles on Skin Care.