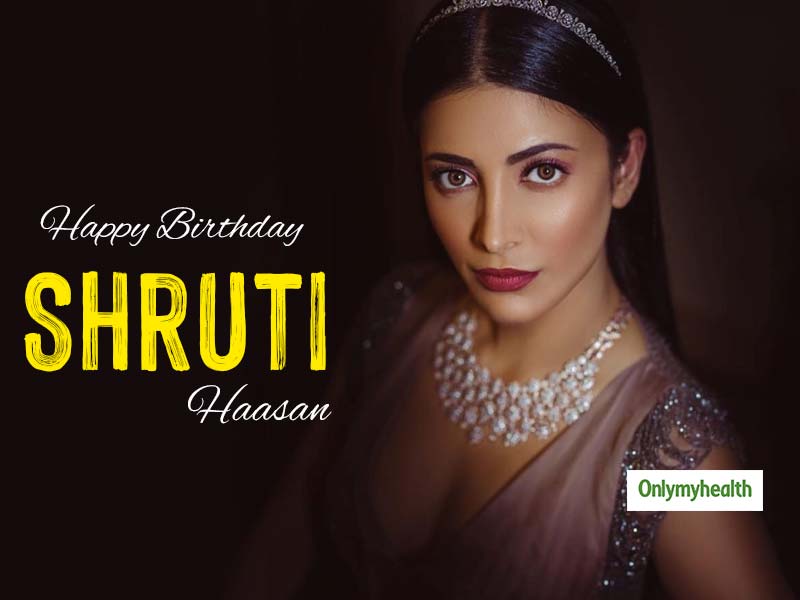 Shruti Haasan is a Telgu/Hindi Film Actress and Singer who works mostly for the South Indian Cinema. Being recognised for her roles in films like D-Day, Gabbar Is Back and Welcome Back, Haasan is a free-spirited actress who does well in any of the characters she is given to perform. On this January 28, 2020, Haasan is going to be 34. Precisely, she has never in her career shown any signs of being more than 20 anyway. She has always been a delight to her audience. On the occasion of her birthday, let's take a look at what this modern-day actress thrives upon when it comes to maintaining a diet and living a healthy lifestyle.
View this post on Instagram
Shruti Haasan's Diet Secrets
Shruti has always been honest about the blunders she did while dieting, in the earlier stages of her career. She has often shared how she made her mind understand the importance of nutrients and vitamins and changed her habit of skipping meals and even starving. Her diet is a balanced diet with the proper amount of vitamins and minerals as per her body requirements. Her diet is focused on South Indian cuisine. She focuses on taking in the right amount of protein and carbohydrates from the meals that usually include muesli, eggs, fresh fruits, idli, leafy green vegetables, soups, salads and grilled chicken.
For breakfast, she prefers muesli with an egg accompanied by fruits or idli.
For lunch, it's usually pasta or rice and salad.
For dinner, she avoids rice and eats a non-veg curry item or grilled chicken with soup or salad.
For evening or mid-day munching, she prefers to have fresh fruits handy. Usually, watermelon and coconut as they keep the body hydrated for a long period.
Also Read: Akshay Kumar Fitness Tips: Here Are 4 Teenage Bodybuilding Mistakes To Avoid
Shruti Haasan's Fitness Mantra
Shruti Haasan has revealed in a recent interview that she was never a fitness freak until she came to know about where her career was heading. So to take her roles seriously and perform according to the demands of the situation, she chose to maintain a fit and healthy body. Haasan believes that even if you don't do proper lengthy gym sessions and run for a reasonable period, you can maintain a good body and increase your stamina, endurance, agility and core strength.
Other than running sessions, Shruti also does cardio training every day as she thinks that it's the best way to burn those extra calories. Although, her favourite part of the morning exercise session is the 40-45 minutes dancing, which relieves stress and helps in maintaining weight.
View this post on Instagram
Also Read: Virat Kohli Fitness Training Video: Learn Ballistic Training & Banded Jump From The Captain
Tips For A Beautiful Skin
Haasan says that she usually prefers natural products and avoids any products with chemicals. She says she washes her face regularly and apple night cream with a moisturiser in the day time. On her take about looking beautiful, she has been quoted as saying to BollywoodShadis.com that, "Beauty is nothing but self-confidence. There will be no tips or secrets for it! Our mind and body have to surrender to the way we want to look, only then we can look beautiful. Any outfit suits me, and my skin tone can draw attention. That's why I look beautiful".
View this post on Instagram
Read more articles on Exercise & Fitness