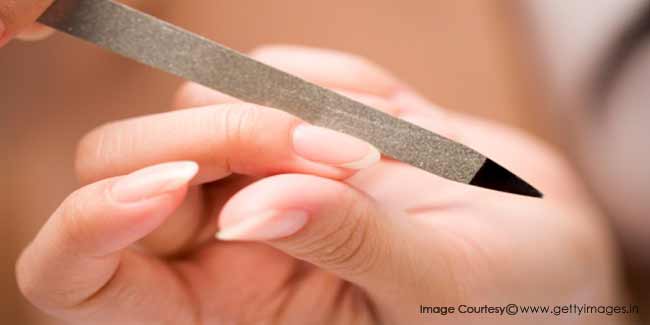 Hands are the mirrors to our personality and contribute to it but are often ignored. We must care for them for they are delicate. Read tips to know how.
Our hands keep on coming in contact with water while general washing of hands or while doing household errands, making your hands lose moisture and natural oils.
The skin on your hands is quite delicate and losing of essential moisture results in the skin getting old faster than any other area.
The skin on the back of hand is delicate and quite prone to getting wrinkles while the skin on the palm is comparatively thicker yet without care it can get dry and rough. Caring for your hands is not a tiring process and sparing a few minutes every day will help keeping your hands soft and young.
Mentioned below are some tips for hand care which can be done at home.
Prevent any damage to skin on your hands by wearing gloves while doing any household work such as washing the dishes, gardening. The skin on your hands can lose moisture and get early wrinkles when exposed daily to chores which involve water, detergents, chemicals or dirt.
Moisturize your hands every time you wash your hands to prevent the skin from drying. Make it a point to moisturize your hands before going to bed at night.
Pamper your hands by indulging in a professional manicure once a month or a weekly manicure at home. Manicure helps keep your hands in good shape and texture. Problems such as chipped nails or dry skin can be dealt with professional manicure.
If the skin on your hands lack lustre and seems leathery, it might be because of dirt and dead skin. Exfoliation is the answer to tackle the problem, use any face exfoliating cream or gel to slough off the grime and dead skin cells.
If your nails are prone to chipping, check for any nutritional deficiency which might be causing it to break. Apart from that, nail hardeners can be used to strengthen weak nails.
If your hands have become extremely dry and rough, massaging them with a good moisturizer or warm olive oil before retiring to bed can help immensely. After massaging your hands, wear a pair of cotton gloves overnight as it helps in better absorption.
Sunscreen should be applied on the hands too as pigmentation and tanning is quite common.
Pigmented skin on the hands can be lightened to an extent by the application of lemon juice with some sugar. Leave it on for ten minutes and wash it off. Skin appears to be a little lighter in tone.
Soak four almonds overnight. In the morning remove their skin and grind them fine. Make a paste by adding one teaspoon of Gram flour (Besan), one Teaspoon of milk and four drops of Limejuice. Apply this on your hands and feet and massage in circular movements. Let it stay for few minutes then rinse off. A regular massage with this paste will bring Natural Fairness on your hands and feet.
Take one teaspoon of milk powder, 1 teaspoon of lemon juice, 1 teaspoon of honey and half a teaspoon of almond oil. Mix them well to make a thick paste. Apply this on your hands and keep it on for 15 to 20 minutes then rinse off with cold water.
Apply a mixture of equal amounts of lemon juice and honey on your hands. Let it stay for few minutes then rinse off. This is best for dry to normal skin.
Read more articles on Hand Care.