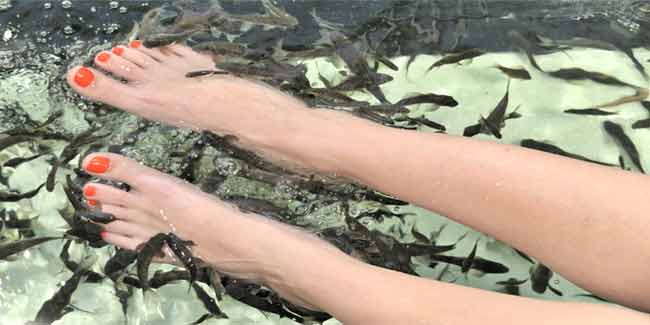 Our feet word hard without demanding much attention but we deprive them of that too. Scan here for tips on how you can take care of your carriers naturally.
In a lifetime our feet walk much as going five times around the earth. We only pay attention to our feet when they rebel at their utter neglect.



So take a look at your feet and start caring for them right away. Shilpa Ajwani oriflame expert gives you tips on keeping your feet clean and smooth.
Go for a good pedicure
A complete pedicure involves soaking the feet in tepid water to which an antiseptic or refreshing foot lotion has been added; the removal of any old nail enamel (if appropriate); clipping and/or filing the toe nails; removing any hard skin which has accumulated on the balls of the feet or the heels; a gentle foot and leg massage and, finally, the application of enamel to the toenails (if required).
A good pedicure at home
Follow these 8 easy to do steps for a super luxurious pedicure:
Remove Old Nail Polish: Choose a mild nail polish remover to get rid of all traces of your nail polish. Use cotton pads - not cotton balls - for tidier polish removal.
Soak Your Feet: The perfect time for a pedicure is after a bath or shower, but you can soften your skin in five minutes. Use warm (not hot) water, and be sure to pat dry before the next step.
Remove Dead Skin: Use both a foot scrubber and a pumice brush with an exfoliating rub to remove dead skin on your feet while paying special attention to rough heels. Do not forget to rinse away sloughed-off skin when done.
Clip and Shape Nails: Long toenails are creepy, so get yours back to a respectable length with a pair of clippers and a file. When filing, move from each edge to the center (don't zigzag a nail file back and forth) and don't file the sides of your nails.
Tackle Your Cuticles: By this, we mean for you to reach for one of those angled wooden tools and push overgrown cuticles back into place.
Trim Excess Skin: Perhaps the most important step, you'll need a cuticle trimmer or nail "nipper" to help you remove dead, rough skin from all around your nails. Be careful - these tools are sharp!
Moisturize: Slather on a coat of rich moisturizer and give your feet a mini-massage. Wipe any lotion off your nails before applying polish.
Polish: Choose a nail colour of your preference and apply two even coats to each nail.


Maintain good personal hygiene and follow these tips
Bathe your feet daily in lukewarm water with a mild soap and dry thoroughly, especially between the toes.
Change your socks at least once a day. Dust your feet frequently with a foot powder (always wipe between the toes to remove excess moisture).
Use a refreshing foot spray before wearing closed shoes. This will control the odour and keep the feet fresh all day.
Wear thick, soft socks to help absorb the moisture. Natural fibre socks such as wool or cotton and other absorbent materials are better. Wear shoes that are made of leather, canvas, mesh or other materials that let the feet breathe.
Use anti-perspirant foot products which control perspiration like foot sprays, Foot powders and all.
Take special precaution with foods and drinks that you intake. Drinks that have alcohol or caffeine may provoke surplus sweating. In the same way, some spicy food may make some individuals sweat a great deal.
Sweating beyond certain limits may also be due to hereditary reasons. Use stilettos that keep your feet open and dry.
Preventing cracked heelso Applying an oil based moisturizing cream twice daily is really important to get on top of this problem. A pumice stone can be used to reduce the thickness of the hard skin.
Keep your feet and soles clean and wear soft, cushioned, comfortable shoes that fit well. One should wear socks to prevent feet from rubbing on the shoes. Avoid walking barefoot and wear shoes that fit properly.
Don't let your feet come in contact with bleaching agents or any harsh chemicals or strong chemical soaps. Use natural products.
Read more articles on Feet Care.