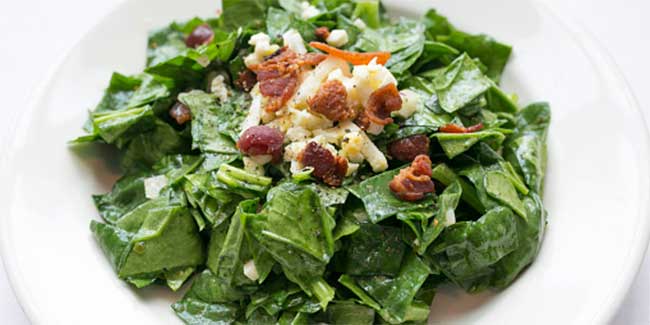 Salad Crispy Spinach Feta Salad (Veg) Capture the sunshine of the Mediterranean with a blend of spinach, feta cheese, onions, cucumbers, tomatoes and olives tossed in a simple dressing.
Crispy spinach feta Salad (Veg)
Capture the sunshine of the Mediterranean with a blend of spinach, feta cheese, onions, cucumbers, tomatoes and olives tossed in a simple dressing.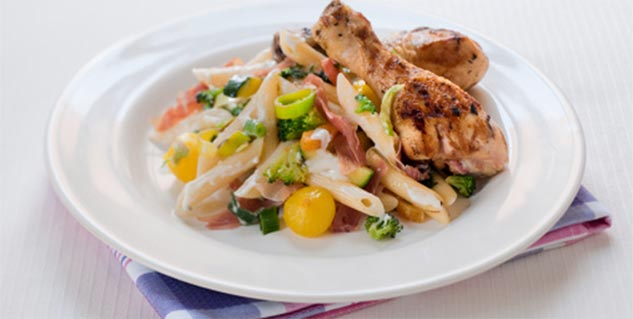 Serves 4-6
½ cup feta cheese or crumbled paneer
250 gm spinach leaves (2 cups)
1 small cucumber (kheera)
1 small onion - cut into 8 pieces and separated
1 tomato - cut into 4, remove pulp and chop into very small pieces
5-6 leaves of iceberg lettuce - tear into small pieces or ½ cup cabbage - cut into 1" pieces
Dressing
3 tbsp oil, preferably olive oil
1 tsp vinegar, ¾ tsp salt
½ tsp pepper, ½ tsp oregano (dried)
1 tbsp milk
Method
Wash spinach leaves. Remove stalk. Pat dry leaves on a clean kitchen towel. Keep aside for 30 minutes.
Heat oil in a pan, fry few leaves at a time. Fry leaves carefully (oil splutters!) in 5 batches till crisp and dark green. Do not let them turn brown while frying. Drain on paper napkins with a pair of tongs. Keep aside and not in the fridge but outside, till further use. (Fried leaves turn limp in the fridge!)
Remove bitterness of the cucumber. Cut lengthwise into two halves. With the help of a scooper or the back of a teaspoon, remove the seeds from the cucumber by pulling the spoon straight down the length of the cucumber half. This way you get a groove in the cucumber piece. Cut the cucumber into ½" thick, half-moon slices.
Put all ingredients of dressing in a big bowl. Mix well with a wire whisk or fork.
Except for the feta cheese and fried spinach, add all the chopped vegetables to the bowl. Mix well. Transfer to the serving bowl. Keep salad aside in the fridge to chill.
At serving time, add fried spinach to the salad, mix gently. Sprinkle feta cheese over the salad. Serve.
Chicken pasta salad (Non-Veg)
A hearty dish of chicken and pasta has a gourmet dressing made with creamy yogurt and orange marmalade.
Serves4-6
1 cup pasta, macaroni or penne
200 gm chicken with bones
2 tbsp olive oil
2 small green capsicums - cut into ½" squares
1 tomato - cut into squares, remove pulp
Dressing
1 cup yogurt (dahi) - hang for 25-30 minutes in a muslin cloth
4- 5 tbsp thin cream
1 tbsp orange marmalade
2 tbsp olive oil, 2 tbsp milk
½ tsp oregano, ¼ tsp pepper, ½ tsp salt
1 tsp mustard, or to taste
1. To boil pasta, boil 8 cups water with 1½ tsp salt and 1 tbsp oil. Add pasta to boiling water. Stir to see that pasta is not sticking to the bottom of the pan. Boil, stirring occasionally, for about 10 minutes till pasta turns soft, but yet firm. Remove from heat and strain. Leave for 5-7 minutes in the strainer for all the water to drip. Spoon 1 tbsp olive oil on the pasta. Keep covered in a bowl till the time of use.
2. Mix the chicken pieces, 2 tbsp olive oil, ¼ tsp pepper and ½ tsp salt in a micro proof bowl. Cover with a cling wrap and microwave for 4 minutes. Shred the meat from the bones.
3. Mix the shredded chicken, capsicums, tomato and boiled pasta in a bowl.
4. For the dressing, whisk all the ingredients of the dressing in a small bowl till smooth and emulsified. Add the dressing to the chicken and pasta in the bowl.
5. Toss well using 2 forks. Check salt and pepper. Mix well. Serve cold.
Amritsari Fish (non-veg)
The beauty of these golden, batter-fried fingers is that the delicate taste and texture of fish (preferably sole) is not overwhelmed with spices - just one shining accent note of ajwain (carom seeds). Serves 5-6
o 500 gm boneless fish fillet - cut into 1½" long pieces (10-12 pieces)
o ¼ tsp turmeric (haldi) powder
o 1 tsp salt, 1 tbsp lemon juice
o 2 tbsp gram flour (besan) Batter
o 3 tbsp flour (maida), 4 tbsp cornflour, 3 tbsp gram flour (besan), 1 egg
o 1 tsp carom seeds (ajwain), 2 tsp garlic paste
o 2 tsp ginger paste, ¾ tsp salt
o 1½ tsp red chilli powder, 1 tbsp lemon juice a pinch of colour; ¼ cup water, approx.
To serve
some chaat masala for sprinkling on top, hari chutney, one large lemon - cut into wedges
1. Cut fish into 1½" long pieces of ¼" thickness.
2. Rub fish pieces with haldi, salt, lemon juice and besan. Keep aside for 20 minutes. Wash well to remove all smell. Pat dry on a clean kitchen towel.
3. Mix together all ingredients of the batter to get a pouring batter of thin coating consistency.
4. Leave the fish to marinate in it for at least 2 hours or till serving time in the fridge.
5. At the time of serving, heat oil on medium heat. Pick up the fish pieces, deep fry to a golden colour on low medium heat till the fish is cooked and crisp.
6. Sprinkle chaat masala and serve hot garnished with lemon wedges and sprigs of coriander or mint.
Note: For a different flavour 1-1½ tsp dry fenugreek leaves (kasoori methi) can be added to the batter.
We all love to eat delicious food. And if the food is cooked on special occasion and consumed with your loved ones the taste is increased. Here, welcome the New Year with some of the delicious cuisines which you can easily make at home and surprise all the guests with your culinary expertise. Here we present some mouth watering dishes by renowned culinary expert Neeta Mehta.
Image Source: http://bit.ly/cterrk