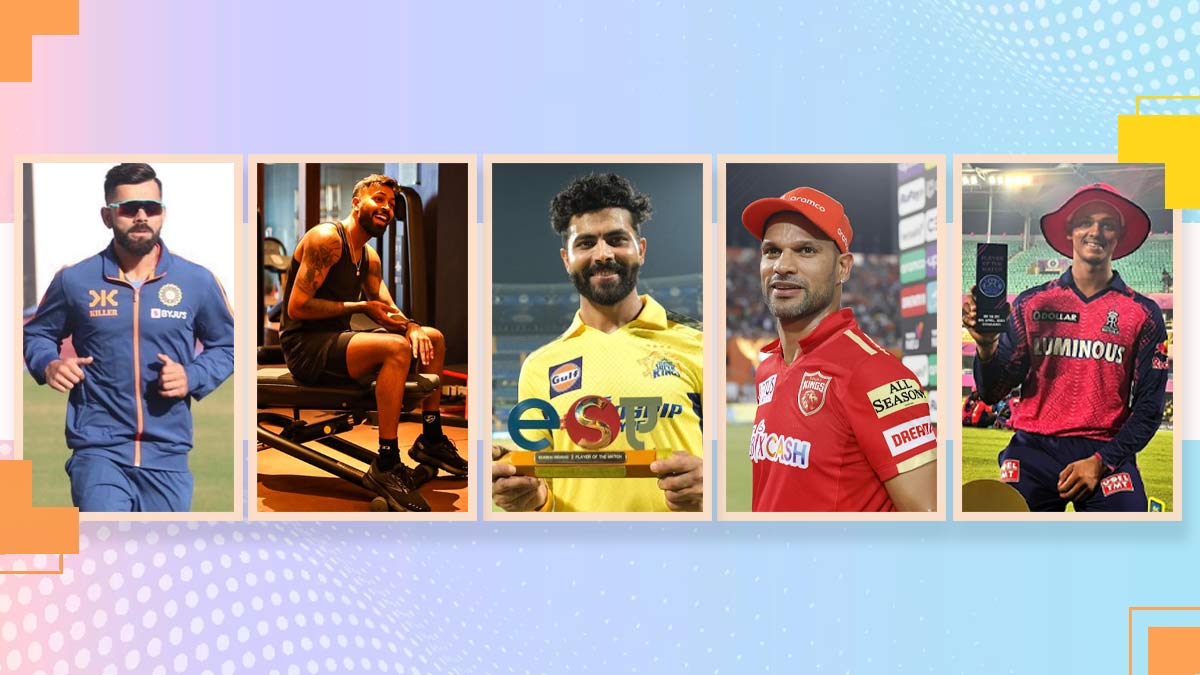 IPL 2023 has begun in full swing, with high-scoring matches and nail-biting finishes. All of the teams participating in the 16th edition of the Indian Premier League (IPL) are giving their all and ensuring that their players remain fit so that they can give their full commitment on the pitch. Out of all the players competing in this year's IPL, five Indian players are making the most noise with their fitness and on-field performance which include Virat Kohli of the Royal Challengers Bangalore, Hardik Pandya of the Gujarat Titans, Ravindra Jadeja of the Chennai Super Kings, Shikhar Dhawan of the Punjab Kings and Yashaswi Jaiswal of the Rajasthan Royals.
Cricketers are among the fittest people on the planet, and taking fitness inspiration from them can help you transform quickly. So, before you start ego-lifting, let us first understand the things to keep in mind before embarking on the exercise regimen and type of exercises that the above-mentioned cricketers swear by.
Things You Should Do Before Any Workout
We are so drawn to working out and burning calories that we dive right into the working set. Warming up is an essential part of any workout because it increases blood flow in the body, lowering the risk of injury. A warm-up routine should include basic stretching as well as some cardio exercise to ensure maximum blood flow throughout the body.
1) Virat Kohli Workout
Virat Kohli began weight training in 2012 and has been unstoppable since then. Kohli's workout consists of a combination of powerlifting and cardio exercises. He is seen performing a lot of power clean and snatches in every other reel he has uploaded. Cleans and snatches are both excellent strength-building exercises that improve overall body structure. If you want to gain strength or simply maintain your weight, incorporating Virat Kohli's favourite lifts may be beneficial.
View this post on Instagram
2) Hardik Pandya Workout
As an allrounder, Hardik Pandya's primary focus is on increasing strength and stamina. Pandya engages in a variety of cardio exercises, the majority of which involve running or sprinting, to increase stamina. He is frequently seen doing weight training for strength. So, if you want a lean body, incorporate cardio and weight training into your routine.
Also Read: Test Cricket: Key Diet Components & Fitness Training You Need To Survive 7 Hours Of Play
3) Ravindra Jadeja Workout
Ravindra Jadeja is well-known for his ground speed and power. Jadeja's workouts are frequently a combination of HIIT and power training. A high-intensity interval training (HIIT) workout improves stamina and speed while also burning a lot of calories. Power training is a type of training that has recently been introduced into the regimen of cricketers. It includes exercises that require you to move weights as quickly as possible, based on the idea that strength + speed = power. If you want to lose fat while also building muscle, start with power training.
4) Shikhar Dhawan Workout
Shikhar Dhawan has begun to look younger on the pitch, which he attributes to his new fitness regimen. Earlier, Dhawan used to focus on lifting heavy weights, but since turning 30, he has adopted a bodybuilding training style. A bodybuilding regimen focuses on repetitions rather than heavy weight lifting, which helps prevent injury. So, if you are over 30 and looking to transform, start focusing on reps rather than lifting weights.
View this post on Instagram
Also Read: Virat Kohli Fitness: 5 Exercises The Indian Cricketer Swears By
5) Yashaswi Jaiswal Workout
Yashaswi Jaiswal is just 21 years old, but he is making big noises with his bat. As evident by his Instagram, Jaiswal takes his fitness very seriously and is frequently seen lifting weights. His workout consists of a circuit workout and power training. Circuit workouts are excellent for increasing stamina, and strength and power training helps with explosiveness. So, if you're just getting started and aren't sure what your fitness goals should be, starting with power training is a good place to start.
Image Credit: Instagram
View this post on Instagram