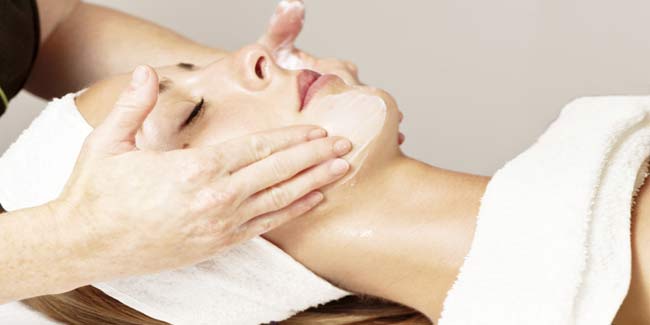 Considered to be one of the best ways to take care of your skin, a facial is a way for you to get glowing and beautiful skin. Just call a beautician and get it done!
A facial is a beauty procedure which involves various steps of skin treatment which includes cleansing, exfoliation with steam, extraction, massage and face masks. Facial is quite popular as it cleans and nourishes the skin making it soft and supple. You can get a facial done in a beauty salon or a spa.

The Process

The process of facial starts with face cleansing followed by a skin analysis. The esthetician studies your skin type and the problem areas while asking your inputs regarding any skin problems you are experiencing. This is important as based on the skin type and issues of the skin a facial is done accordingly. An oily skin would need a clay mask while a dry skin will need a hydrating mask. Sensitive skin needs to be dealt carefully as irritation of the skin might occur and only hypoallergenic products should be used.

Exfoliation

Exfoliation of the skin is done with the help of vapors or steam from hot water. The steam opens up the pores of the skin and makes it soft and absorbent for the facial treatment. Skin which is prone to blackheads loosens out the clogged pores due to the hot vapor which makes extraction of blackheads a little easy. But extraction of blackheads will not suit all as it might cause inflammation on sensitive skin, extraction of blackheads can be painful on delicate skin. Extraction is optional. A facial massage follows for half an hour or so which relaxes and stimulates your facial muscles. It is a relaxing technique which is said to boost blood circulation to the face making it glow. A face mask is the last step of facial which is applied according to your skin type. Upon drying of the mask your face is cleaned and a toner or moisturizer is applied.
Skin care regime which involves facial once in a month is adequate.
Concerns
There are no risks involved with facial; if it is done properly. The important rule for a facial treatment is the skin type and what the skin requires. People with sensitive skin should inform their esthetician of their skin type in advance to avoid any allergic reactions.

Read more articles on Beauty Treatment and Body Surgeries