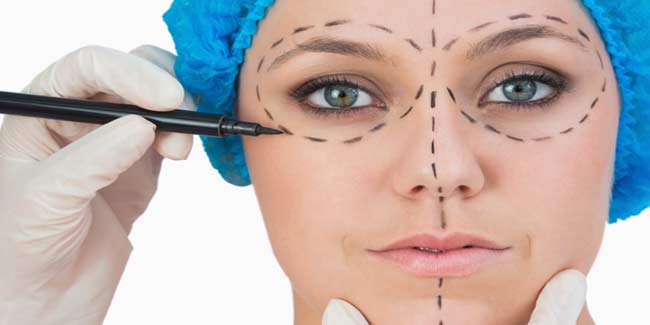 Face is the most noticeable part of our body. It creates the first impression of yours on people you meet and we all want attention-seeking facial attributes. Don't we?
In order to fix the issues pertaining to facial attributes, people seek cosmetic surgery procedures. Hiding the effects of aging and genetic defects are other plausible reasons for cosmetic surgery procedures. With the advent of modern facial cosmetic procedures, it has become quite easy to alter your facial profile or overall appearance. However, one must know pros and cons of the modern surgical treatment before going for the surgery,.

There is a lot of variation in facial cosmetic surgical procedures; some of these are as big like complete face-lift, whereas some are as simple as Botox injection. Among popular facial surgeries are Rhinoplasty, Genioplasty, Malar Augmentation and Blepharoplasty.
Nasal Surgery
Nasal surgery, known as Rhinoplasty, has become a modern fad after several celebrities opting for it. The commonest facial cosmetic procedure adjusts the shape and size of the nasal bone so as to reshape nose to suit the overall profile. Among the complications associated with nasal surgery are bruising and swelling. Recovery time for the surgery ranges between 7 to 10 days.
Chin Surgery
Chin surgery is done by those who desire to increase or decrease length and shape of the chin. Also known as Genioplasty, the modern surgery is usually done with the synthetic material. With an adequate chin surgery, one can get more proportional profile.
Cheekbone Surgery
Implantation of cheekbone, which is sometimes referred to as Malar Augmentation, makes cheek look more defined. The implants made of synthetic material are used for reshaping cheekbones. Recovery duration of the surgery ranges between 7 to 10 days.
Eyelid Surgery
Eyelid surgery, scientifically known as Blepharoplasty, is one of the ways of replenishing skin. Blepharoplasty seekers aim to shed off excess fat or skin that grows with age around upper or lower eyelids. This modern surgery is mostly accompanied by surgeries like facelift.
Forehead and Eyebrow Lift
A forehead and eyebrow surgeries are popular procedures for skin tightening. The cosmetic surgical procedure pulls taut of the lifted skin along with removal of excess skin. These surgeries are done in conjunction with eyelid surgery in order to improve overall profile. Recovering from forehead or eyebrow lift takes 7 to 10 days.
Read more articles on Beauty Treatments & Body Surgeries.