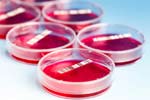 Researchers have found out a way of creating facial skin with the help of stem cells taken from fat.
A team of researchers from London's Great Ormond Street Hospital for Children and University College London's Institute of Child Health has come up with the findings of their investigation on the effectiveness of stem cell therapies for facial reconstruction.
Great Ormond Street has had a proven record in facial reconstruction, particularly when it comes to treating children with a malformed or missing ear, a condition that is commonly referred to as microtia. This type of reconstruction surgery involves taking the cartilage from the ribs of the patient and crafting scaffold for an ear, which is later implanted beneath the skin.

Despite of appalling success of this surgery, researchers thought that the treatment can be improved by bringing stem cells into the entire process. The cells can be treated with certain chemicals that encourage their transformation into cartilage cells before they are inserted into the patient's body.

As of now, the researchers have successfully created cartilage on scaffold with the help of stem cells, but more safety testing is needed before the procedure is tested on patients.

The findings of the study have been published in the journal Nanomedicine.
Article Source: Medical News Today
Read more Health News.