What is Psoriasis?
A chronic condition of skin that results in scaly patches and red marks on the skin is called as Psoriasis. It occurs genetically or affects the adults with a weaker immune system, in turn affecting the set of white cells in the body. This condition usually springs upon body parts like knees, elbows, soles, palms and scalp etc. however, in some cases the white scaly patches may appear on any other part of the body as well. Although there are treatments available for psoriasis, there are certain preventive measures that a person suffering psoriasis should take. Yes, a person suffering from psoriasis must not use any skin care product available in market.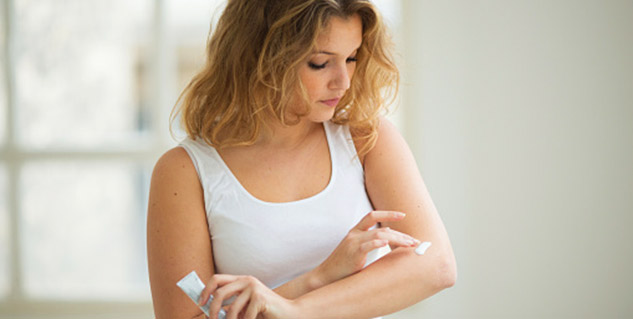 Why people suffering from psoriasis cannot use just any skin care products?
The skin care products available in market are laden with chemicals that can aggravate the condition of psoriasis. Psoriasis is a chronic disease and if the person suffering from psoriasis is using chemical based skin care products that are high on water based, there are chances that scaling and inflammation may aggravate. There are no especial made skin care products for psoriasis but surely there are few natural skin care products for psoriasis.

Below is the list of natural skin care products for psoriasis affected skin. Take a look!
Shea butter
The unsaturated fat in shea butter can act as a healing property in psoriasis. Yes, raw shea butter is enriched in unsaturated fats that provide the scaly skin in psoriasis the much needed moisturizer without any side-effects. It cannot heal psoriasis completely but it can relieve the skin from itchiness.
Tea tree oil
Tea tree oil has highly effective antiseptic properties and can be used for psoriasis in scalp. Yes, psoriasis affects scalp also, resulting in patchy and dry skin on scalp. If you are using a shampoo, make sure it a mild one and then add a few drops of teat tree oil in it and let the shampoo sit on your scalp for 5 to 10 minutes, then wash off.
Shampoos with no sulfate in them
Try and use shampoos that do not have sulfates in them, the property that creates lather when you wash and rinse your head with shampoo makes you scalp dry and irritate the already sensitive scalp in psoriasis.
Thyme oil
Thyme oil also has antiseptic qualities along with calming and relaxing properties. Although, Thmol present in Thyme oil is highly toxic, it can be very useful for problems like psoriasis. You just need to apply Thyme oil with some other oil like tea tree oil or any other oil best suited for psoriasis and apply on the scaly part but people with high blood pressure or and pregnant women should not use it.
Image: Getty
Read more article in Psoriasis.
For more such stories, Download Onlymyhealth App.