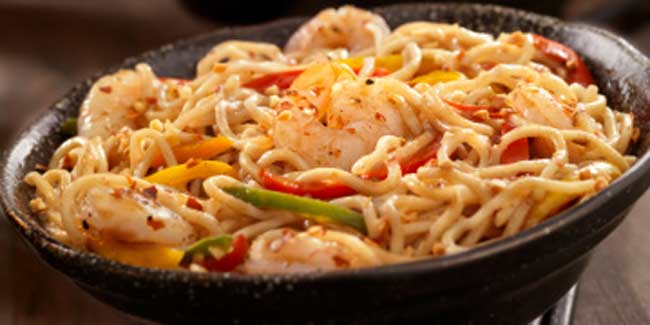 As summers arrive, staying in the kitchen for longer durations becomes tough. Sweat and itch can turn your stay in the kitchen a nightmare. This harsh climate causes fatigue and makes you irritable towards everything. In such a situation, what you need is a quick recipe that you can easily prepare after work within no time. These recipes are delicious and can fulfill your's and your family's nutritional requirements.
Carrot, Raw Mango and Sesame Salad
Roast dried sesame seeds on low flame for approximately 3 minutes. Mix the seeds with 1 dry and seedless red chili, half spoon jaggery syrup, 1 tablespoon peanut powder and some salt. Mix nicely cut carrots and raw mangoes with the mixture and toss it. Your healthy dinner is ready to be served.
Roti Roll
For the filling, chop cabbage, capsicum and onion. Also, grate a carrot into fine shreds. Put some olive oil in a pan and fry some cumin seeds. Add onions and let them turn golden-brown. Add the remaining vegetables and let them cook for 4-5 minutes. In the mixture, add some ground black pepper and salt. Put the tasty filling inside roti and serve them with a drink.
Vegetable Noodles
Bring noodles to boil and drain the remaining water. Keep the boiled noodles under cold water and put some oil on it. Mix 1 tablespoon soya sauce with 1 ½ tablespoon toasted sesame seed powder, 1 tablespoon ginger, black pepper powder, 1 ½ spoon honey and 1 spoon vinegar. Heat some sesame oil in it and add spring onions to it with some chopped garlic and cook it for some time. To this, add chopped carrots, capsicum, cabbage, French beans and cook them for 2-3 minutes. Add the soya sauce mixture to this and toss while mixing. Your delicious noodles are ready within minutes.
Paneer Salad
This recipe is a delicious and healthy way to end your day. Chop onions, capsicum, paneer, cabbage, cucumber, French beans, carrots and tomatoes. For dressing, add some mango chutney and cumin seeds powder to thick yogurt. Put this dressing in the vegetable mix and toss the mixture. Garnish the salad with coriander leaves and serve the salad.
Methi Carrot Rice
Cook rice according to your requirement. Grate carrot and finely chop some French beans. In pan, put some cumin seeds, 1 tablespoon sesame seeds, 1 tablespoon channa dal, cinnamon sticks and black pepper. Sauté them and make a fine powder. Add some oil to a pan and put carrot, beans and methi rice and fry them for few minutes. Add spices according to your taste and add rice to the mixture and toss. Serve the dish with raita.

These recipes can come to your rescue while you are all drenched in sweat and struggling inside your kitchen and thinking about your next recipe for dinner.
Image courtesy: Getty Images
Read more on Diet and Nutrition.