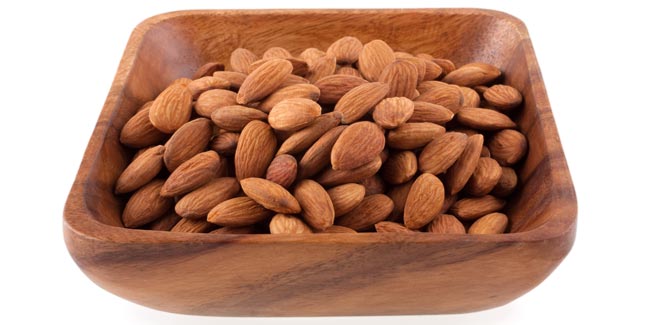 Weight loss can be a huge task unless you know some effective ways to make it easier. One such way is to use almonds for weight loss. However you should know how to use almonds for weight loss.
Almonds have a high nutritional value and are low in saturated fats. If included in a healthy eating plan and exercise program, almonds can be extremely beneficial for weight management and keeping other lifestyle disorders, such as diabetes and heart ailments at bay. Take a look at how almonds help in weight loss.
Almonds and weight loss
Fats present in almonds are considered safe. The reason why almonds are recommended for weight loss is because of their nutritional value. A person, who has a healthy and well-nourished body, has no craving for unhealthy food items.
A study published in International Journal of Obesity and Related Metabolic Disorders stated that overweight adults, who add almonds to a low-fat diet, tend to reduce more weight than those who don't include almonds in their diet. There were over 65 overweight participants, who were asked to add almonds to their low-fat diet. After six months of following this diet program on a daily basis, the participants showed a reduced body and water weight.
Calories and nutrition in almonds
Almonds are calorie dense thus, keeping a check on your intake of almonds is important. There are over 820 calories in a cup of whole, raw or dry roasted almonds. From one ounce of almonds, you get about 160 calories, 6 g of protein, 1.4 g of natural sugars, 3 g of fibre and 6 g of carbohydrates.
One ounce almonds contain almost 80 per cent of fats out of which, 8 percent is derived from saturated fat and the other 92 percent comes from monounsaturated and polyunsaturated fats. All are good fats and increase the level of the HDL "good" cholesterol. Almonds are inclusive of vitamin E, which strengthens the immune system, but does not aid in weight loss.
Moderate almond consumption
For weight loss, moderate consumption of almonds is the key. Despite of innumerable nutritional properties of almonds, consuming them in excess means taking in too many calories. Almonds are heart healthy, but the number of calories they contain is the primary concern. If its consumption is not monitored and limited, it could be a potential reason for weight gain.
Other health benefits of almonds
Other than curbing one's appetite and aiding in weight loss, eating almonds also helps to lower LDL "BAD" cholesterol and raise HDL "GOOD" cholesterol thus, reducing the risk of heart diseases. Replace other protein sources that are high in saturated fats, such as red meat and fried foods with almonds in your routine diet.
Almonds provide dietary antioxidants that remove free radicals present in the body and protect against any damage they may cause. Moreover, almonds are also a good source of calcium and folic acid.
Image Source:www.livestrong.com/eatthis.com
Read more articles on Weight Loss