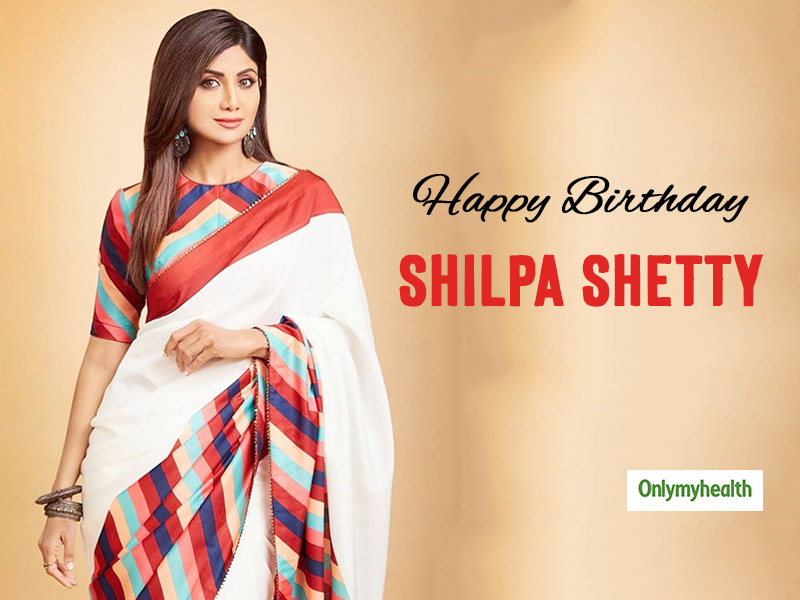 Happy Birthday Shilpa Shetty: Shilpa Shetty is one of the fittest celebrity of Bollywood who turned 45 today. The actress is well known for her dedication towards fitness and the diet she follows. Everyone is searching for the secret behind Shilpa Shetty's fitness. The actress can be seen performing different yoga asanas. She also shares the food she consumes many times on social media. Shilpa Shetty's transformation after the birth of her son Viaan is a motivation for all of her fans. The actress reduced her pregnancy weight so entirely that every new mother wants to try it.
Pregnancy is a beautiful experience for every mother, but unfortunately, it leaves behind a tad bit of fat which becomes difficult to shed. Most women gain around 15-30 kgs post-pregnancy because of what women eat during pregnancy and the lack of movement. But don't worry, so do your favourite celebs. Bollywood female celebrities often gain postpartum weight, but they dedicate themselves to losing those extra kilos. Shilpa Shetty is yet another gorgeous and ageless diva who inspires new mothers each day to lose the excess weight.
She gained 31 kgs during pregnancy, thanks to her high-fat diet, which included milk, ghee and other fatty nutrients. She was worried about not losing the weight but still managed to, after a rigorous workout and a healthy diet plan. She has shared her weight loss regime with the world and also written a book "The Great Indian Diet", co-authored by Luke Coutinho, a nutrition and fitness expert.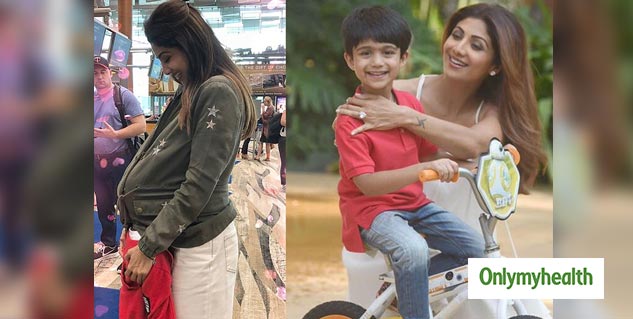 Here are some of her secrets for mothers who want to be fit and look sensational like they did before:
Post-Pregnancy Diet
Breakfast: She drinks a glass of hot water, first thing in the morning along with a plate of papaya with lemon. After that, she drinks a cup of milk tea. For breakfast, she either eats porridge or two eggs.
Lunch: She eats two quinoa Rotis or a small bowl of rice with dal, fish or vegetables. To finish off her lunch, she eats a piece of jaggery.
Snacks: A glass of slim Dahi buttermilk after two hours of lunch; tea in the evening with brown sugar are her go-to snacks
Dinner: Her dinner includes a lettuce salad filled with veggies, a turkey slice or a salmon steak. Paneer or stir-fried vegetables are things she sometimes adds to her meals and sour soup for proteins.
Post-Pregnancy Workout
She works out five days a week- inclusive of yoga (2 days), strength training (2 days) and cardio (1 day). She meditates for 10 minutes after yoga and believes that meditation helps a lot with weight loss.
Some Other Tips from Shilpa Shetty
She makes sure that she is eating according to her diet plan for six days/week
Post-pregnancy, she concentrated on a balanced diet
Her daily calories intake is 1800
She does not eat after 8 pm and ensures that her last meal is consumed 3 hours before bedtime
To stay hydrated, she advises drinking ten glasses of water each day
Recommends to eat processed foods including raw nut butter, almond milk, mustard and flax seeds
She takes one day of her week as a cheat day to curb cravings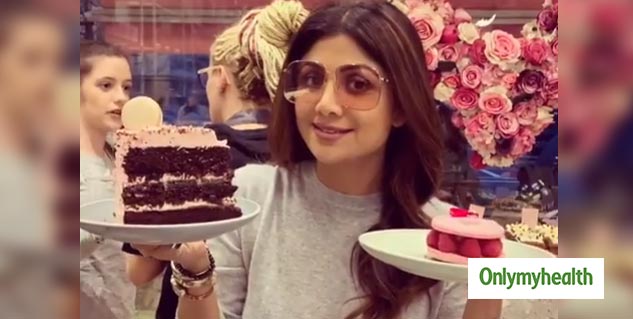 She advises all mothers to lose weight but also says that they should not feel sad about their body weight as it is a natural process and they must take their time to nurse the baby. She also recommends new moms only to start dieting after at least four months of giving birth. "If your schedule doesn't allow you to exercise, it is possible to lose 75 per cent of the weight by eating a balanced diet."
Also Read: What really Happens to a Woman's Health and Body Post Pregnancy?
Every woman's body is different and it takes time to lose weight, so do not overindulge or overtly limit your diet to stay in shape, it might put your baby's health at risk. Most importantly, celebrities have a hoard of dieticians and experts at their disposal to rectify any mistakes, so do not blindly follow in their footsteps, especially when it comes to pregnancy. Do not make the mistake of holding self to the likes of celebrities.
Read more articles on Weight Management