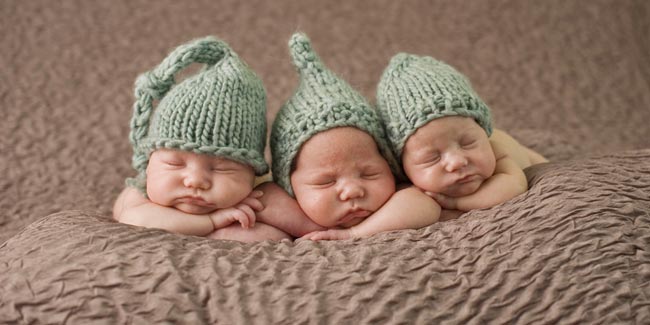 To develop good sleeping habits for your baby, the foremost step is to build a sleeping routine for your baby and ensure that you follow it regularly.
Newborn babies sleep for most part of the day-at least 18 hours in a day-for the first few weeks after birth. The duration of the baby's sleep will not, however, exceed three to four hours at a stretch. Unfortunately, sleepless nights while pacifying your newborn are inevitable. Newborn babies sleep most hours of the day and are still cranky and drowsy for the remaining hours. It is because newborns have REM (rapid eye movement) sleep, which is light and can therefore, wake them up easily. [Read: How much Sleep does a Baby need?]

Once your baby turns two months old, he will stop sleeping during daylight and have deep and non-REM sleep for longer periods at night. Your baby will interrupt your sleep at least once at night for his feed or diaper change. If you wish to have a comfortable and uninterrupted sleep at night for your baby and yourself, aim to inculcate good sleeping habits in your newborn from the beginning.[Read: Why do Babies Cry at Night?]
The foremost step to develop a good sleeping pattern for your baby is to let him know when the right time is to sleep. Before putting your baby to bed, read him a story, sing a lullaby or give him a bedtime bath or sponge. Do it every night so that it becomes an indication of sleep-time for your little one. When your baby becomes drowsy, lie besides him to comfort him. Eventually i.e. after a few days, he will learn to fall asleep on his own after the bedtime routine activity.[Read: How to Sponge bath a Newborn baby]
To inculcate good sleeping habits in your baby, make sure you put him to sleep roughly at the same time every day. If you keep changing his sleep timings, it will become difficult for him to adapt to his sleep schedule. Follow this and soon you'll find your little one yawning at the same hour every day. Strict sleep schedule is requisite for good sleeping habits.
Once your baby completes six months, his daily naps will reduce to a few and by the time he turns ten months old, he will only take his afternoon nap. With frequent changes in your baby's nap routine, you may need to adjust his sleeping schedule accordingly.
While travelling or due to any other prolonged interruption, your baby may not be able to fall asleep on his routine time and will therefore, be irritated. In this case, soothe your baby and try to build a new sleeping schedule. You may need to begin all over again, but it will take only a few days for your baby to get used to a new sleep routine.
Read more articles on Parenting.