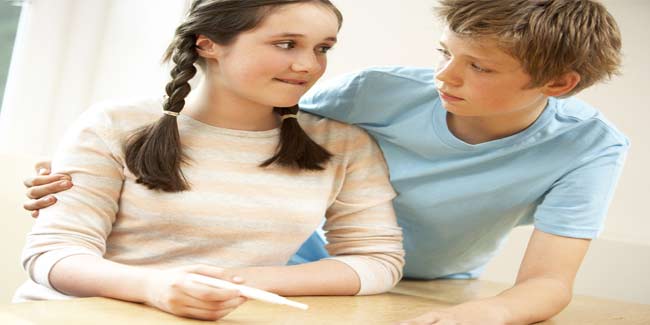 Pregnancy at a tender age has several short-term and long-term health complications. Take a look at the medical risks associated with teenage pregnancy for the mother and baby.
Teenage pregnancy, also known as adolescent pregnancy, poses several risks for mothers and their babies. Teen mothers are more likely than other mothers to give birth to a child with medical conditions, reason being inadequate nutrition and lack of prenatal care.
Some of the dangers of teenage pregnancy are mentioned below.

Premature Birth – The chances of pre-term birth are high in teenage pregnancies. Premature birth refers to the situation when pregnancy does not last the full pregnancy term of 40 weeks. Adolescent mothers usually experience labour as early as in the 37th week, which may or may not be stopped with medications. In some cases, baby has to be delivered early because of posed health risks to mother and the infant. Premature birth may accompany several short-term as well as long-term medical complications, such as respiratory concerns, digestive problems, vision issues and cognitive disorders.

High Blood Pressure – Pregnant teens are at a higher risk of high blood pressure condition, which is referred to as pregnancy-induced hypertension in medical terms. Together with excess protein in the urine, the condition worsens and often results in swelling of mother's face, hands, etc. High blood pressure during teenage pregnancy is also linked to organ damage and medical conditions, such as preeclampsia, which disrupts foetal growth and adds to woes.

Low-birth-weight Baby – Preemies, babies born before 40 weeks of pregnancy term, are more likely to weigh less (1,500 – 2,500 grams). The reason for low birth-weight of a baby is the insufficient time in the womb for development. Owing to this, they may require immediate medical attention and are put on a ventilator in a neonatal care unit (NICU) for improving survival chances.

Lack of Prenatal Care – Lack of prenatal care is a danger of teenage pregnancy, which affects steady development of the foetus. Prenatal care is most important in the first few months of pregnancy i.e. the period to monitor foetal development and resolve treatable conditions.

Postpartum Depression – Postpartum depression rate is higher in teenage mothers in comparison with other mothers. It may interfere with newborn baby care and his development.

Most of the teenage pregnancies are unplanned. If you are teenager and expecting, you can still deliver a healthy baby. Avail early prenatal care, keep away from health-hazardous habits, such as alcohol/drugs/cigarettes and ask for emotional support from near ones to ensure your and baby's wellness.
Read more articles on Teenage Pregnancy.