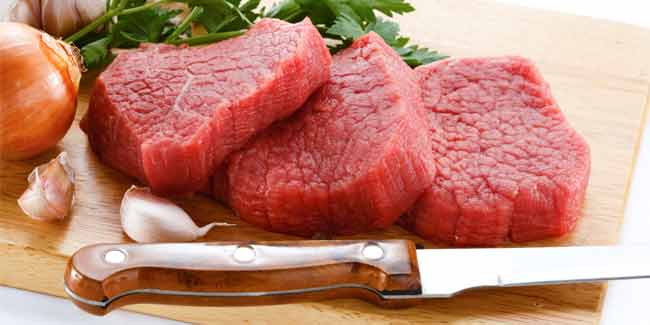 Red meat is the cause of many diseases including fatal ones like cancer and heart diseases. You must learn to eat it in limited amount to avert diseases.
The plate of well cooked steak lying in front of you can be tempting to resist, but how much of that red meat is not too much? What could be the dangers of eating excess red meat?

Too much of red meat is high in saturated fat and cholesterol and it is known to be unhealthy, most especially for your heart. Regular eating of red meat could significantly increase risk of death from heart disease and cancer. In fact one of the studies showed that each extra daily serving of red meat could raise the mortality rate by a fifth.

[Read: Red Meat Increases Risk of Type 2 Diabetes]

Why not to eat Excess of Meat

It has been found that people who eat too much of red meat are actually 20 percent more likely to develop cancer, the chances of which keeps increasing with an increase in consumption. People are more likely to get pancreatic cancer as this type of cancer has been linked with heavy meat consumption. Red meat also contains a lot of saturated fat and cholesterol which certainly leads to heart disease.

Furthermore, the processed meats such as hot dogs contain nitrate which is a preservative that may become carcinogenic when it gets heated to high temperatures during the process of cooking. Meats form Carcinogenic Heterocylic amines or HCAs when cooked in high temperature, you could marinade the meat in vinegar or microwave it before cooking as this could reduce the number of carcinogenic HCAs in them.

[Read: How to Lose Weight with Red Meat]

Then again the meat may contain high levels of hormones due to which there could be reproductive problems and an early onset of puberty in children.

The kidneys work to remove any excess protein from the body, and therefore eating too much protein can stress them out thus leading to kidney damage and contributing to renal failure in some cases. If your diet is rich in protein then this can cause your body to excrete more calcium, and this will in turn contribute to osteoporosis.

Reducing the Consumption

You should consider lowering your daily intake of red meat, and therefore you should include more poultry, fish and vegetables instead. These will help you to lower your risk of a heart disease or cancer. You should eat higher quality of meats and in smaller quantities, small portions of red meat will give you're a taste of what you want without putting your health at risk.

Eat more of beans, legumes, whole grains and dairy products all contain protein. Nuts, seeds, eggs and soy foods are good choices, while fish can also be eaten as they do not carry the same amount of risks. Your body requires protein and that can be found from non-meat sources that do not contain saturated fat or cholesterol.

Read more articles on Healthy Eating