That uncomfortable sensation you have on your face; that persisting nasal congestion and the throbbing headache can be torturous and people with sinus infection will relate. Yes, some symptoms in suns infection are so common and mild that people suffer from them for years without any proper treatment but this is a fact to be understood that no matter how mild signs and symptoms you are experiencing during your sinus problem.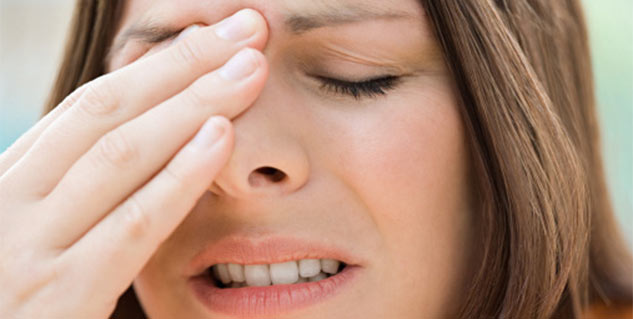 Prolonged sinus congestion not only causes discomfort while sleeping but also while talking and hearing along with facial tenderness and swelling.

What if we told you that you can get rid of all the discomfort that sinus infection causes you, in just three simple ways? It is true, have a look!

Here are three simple and easy steps to cure sinus infection at home.
First step
First of all sit very comfortably. Now, tilt a bit forward and form a 45 degree with your head and body.
Now turn your head sideways and locate the sternocleidomastoid muscle with your fingers and hand. (Muscle starting from right below your earlobes to your collarbone)
Once you have located the muscle. Massage it in downward directions for five times.
Repeat this massaging technique with other side of the neck.
The idea is to relax your neck.
Second step
Now, locate the hard bony part on the bridge of your nose.
Once you have located the hard bony part of the nose, locate the soft part of the nose. (It is right where the hard bony part ends)
Now, massage the area between the bony part and the soft part for 30 to 40 seconds in circular motion.
After this massage, use the tips of your index fingers to massage down the side of the nose approaching towards the cheekbones. This will not only relax your face but will also give you relieve from nasal discomfort during sinus infection.
Third step
Now, locate the orbit bone of eye. (The area above each eye)
Now, locate the orbital notch, which is located above the eyeball.
Now, with your index fingers massage in circular motion with mild preesure on the notch. Massage for 20 to 30 Seconds.
One final step, massage the center of the forehead, in circular motion.
Some points to keep in mind
Quit smoking as nicotine irritates sinus.
Have a lot of water daily.
Start working out and become active.
Images: Getty
Read more articles on Acute Sinusitis.
For more such stories, Download Onlymyhealth app