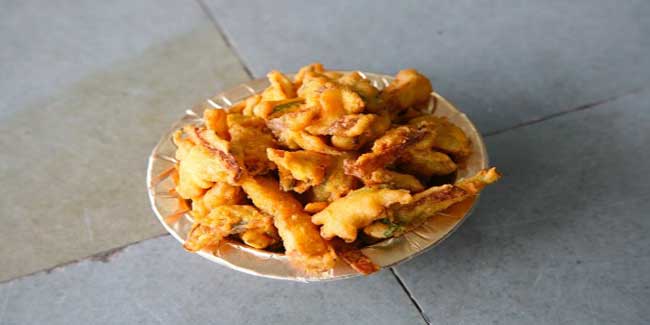 Let us talk food. And when it comes to snacking, it better be something interesting and quick! Here are the tea time snacks with corn that can solve all your hunger issues right away.
Corn Chaat
Pinch of chat masala/ amchur(powdered mango), 1 medium-sized raw mango(peeled and grated), 1 ½ teaspoon of lime juice, a small pinch of red chilli powder, salt as per taste, 1 big cup of canned corn kernels, 1 tomato (finely chopped), 1 onion (diced), few sprigs of cilantro, 1 small carrot (cleaned and chopped). Toss the ingredients well in a bowl and indulge in the newly-found nirvana!
Corn Pakoda

In a bowl, add the coarsely ground corn, finely minced onions, green chilies, ginger, fresh coriander leaves and salt and mix all the ingredients well. Sprinkle rice flour and corn flour over this mixture and mix well. Shape small round balls out of the mixture. Now, heat enough oil for deep frying in a heavy bottomed vessel on medium flame in a pan. When the oil is hot enough for frying, drop small pieces of the corn mixture into the oil and fry them till they reach a golden shade. Drain them with a slotted ladle.
Cheese Popcorn
The ingredients you need to prepare the snack – 2 tsp vegetable oil, half cup popping corn kernels, 2 tbsp unsalted butter and half tsp salt. Heat a frying pan with tight-fitting lid over. Add oil, and when it is heated put popcorn kernels inthe pan. Swirl pot over burner once or twice until kernels begin to pop. Now pour melted butter over popcorn and toss to coat. Sprinkle with cheese and salt and mix it well.
Corn Fritters

Stir all-purpose flour, cornmeal, baking powder, sugar, and salt in a medium bowl. In a separate small bowl, whisk the milk, sour cream and eggs. Now, gently stir the egg mixture into the flour mixture until just blended and let it sit for 10 minutes. Pour the oil into a frying pan and when oil is hot enough, add three or four more balls of batter to the hot oil, taking care not to crowd the pan. Reduce the heat to medium-low so that the fritters cook gently. Cook until they are golden.
Sautéed Corn

In a frying pan, melt the butter with the garlic. Cook until the garlic is lightly browned, about 1 minute, and then remove and take them out. Continue to cook the butter until frothy with brown flecks, 1 to 2 minutes. Add the corn and salt and cook, stirring, for 2 minutes. Stir it and serve.
Image Source: Getty