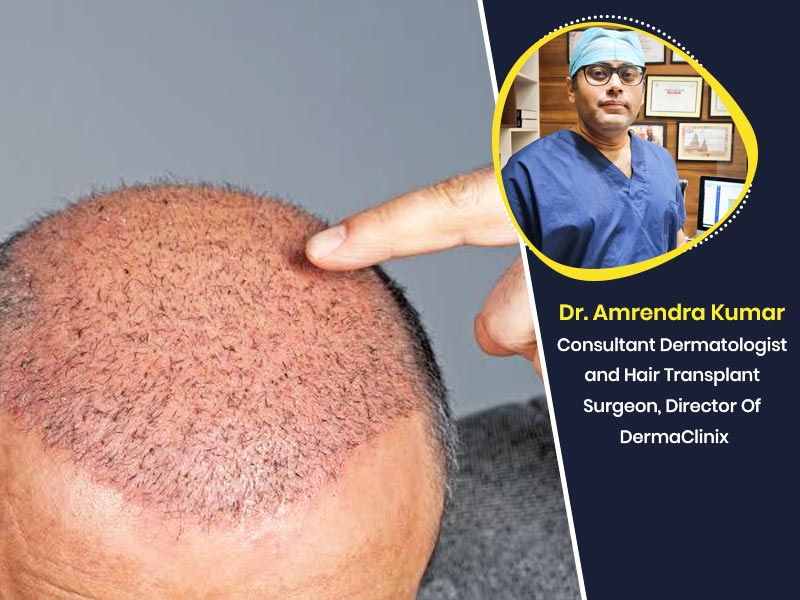 Hair loss has become a widespread issue that affects many people today. Hair loss is a condition in which a person loses hair more frequently than he gains it. It is medically defined as a condition in which the rate of hair loss exceeds the rate of hair gain. Most of us are terrified of losing our hair. It's not just about how you look, but also how you feel - it causes loss of confidence, lowers self-esteem, and other problems. Fortunately, thanks to advances in science and technology, there are solutions for baldness, the most common of which is hair transplantation.
Despite the fact that it has been around for a while, people are still hesitant to try it as an option because there are several myths surrounding the process. In this article, we will attempt to dispel some of these myths about hair transplant surgeries. Onlymyhealth editorial team spoke to Dr. Amrendra Kumar; Consultant Dermatologist and Hair Transplant Surgeon, Director Of DermaClinix, to know about the myths and facts surrounding hair transplantation.
Myths about hair transplantation
According to Dr. Amrendra, here are the myths surrounding hair transplantation:
Myth 1- Hair transplants can lead to cancer
Fact- There is no connection between hair transplants and cancer. This procedure has nothing to do with disability or illness.
Myth 2- Hair transplantation is a very painful procedure
Fact- Doctors will give you anesthesia before beginning the hair transplant surgery. You will have no pain on your scalp while under the influence of anesthesia. The pricking of needles on the scalp may cause some discomfort, but this is perfectly normal. Furthermore, because patients are not admitted to the hospital, they can go home the same day as the surgery.
Myth 3- Hair transplantation can have an effect on the brain
Fact- The majority of people believe that hair transplantation surgery can harm the brain. This is not correct. Hair transplantation has no negative effects on the brain. In reality, hair transplantation is performed on the upper part of the scalp, leaving the skin below the scalp unaffected.
Also read: Know The Reality Of Hair Transplantation By Dr. Niranjana Raj
Myth 4- The results of hair transplantation are only temporary
Fact- As previously stated in this article, hair follicles are transplanted from one location on the scalp to another; the results are permanent. The transplanted hair grows in the same way as normal hair. This is due to the ability of hair follicles to retain their nature even when they are moved from one location to another. It is important to understand that "newly transplanted" hair will begin to fall out approximately 5-7 weeks after hair transplant surgery. However, this is a natural occurrence that will pass. New hair will begin to grow from the grafts in the next 5-6 weeks.
Myth 5- Transplants work best in young men
Fact- Hair Transplantation has nothing to do with age. This is totally misconception. If you begin losing hair at a younger age, you may require additional hair transplant sessions to maintain the result. As a result, it is always best to start with medical treatment (oral medications and ointments) and only considers surgical intervention when hair loss has stabilized, which means at an older age.
Also read: Hair Transplant Treatment: All You Need To Know About Its Procedure, Cost And Side-Effects
Myths 6- Hair grown after transplant are not natural
Fact- In hair transplantation, the subject's own hairs are transferred, so they are natural in every way and grow as natural hairs.
Conclusion
If you are considering hair transplant surgery, you must have realistic expectations. Hair transplant surgeries are not used to prevent baldness or hair loss. Hair transplants are excellent options for men and women who want to successfully address the aftereffects of baldness or hair loss. The best part is that a hair transplant procedure is generally permanent and is a safe and affordable procedure that will leave you with fuller and thicker hair.