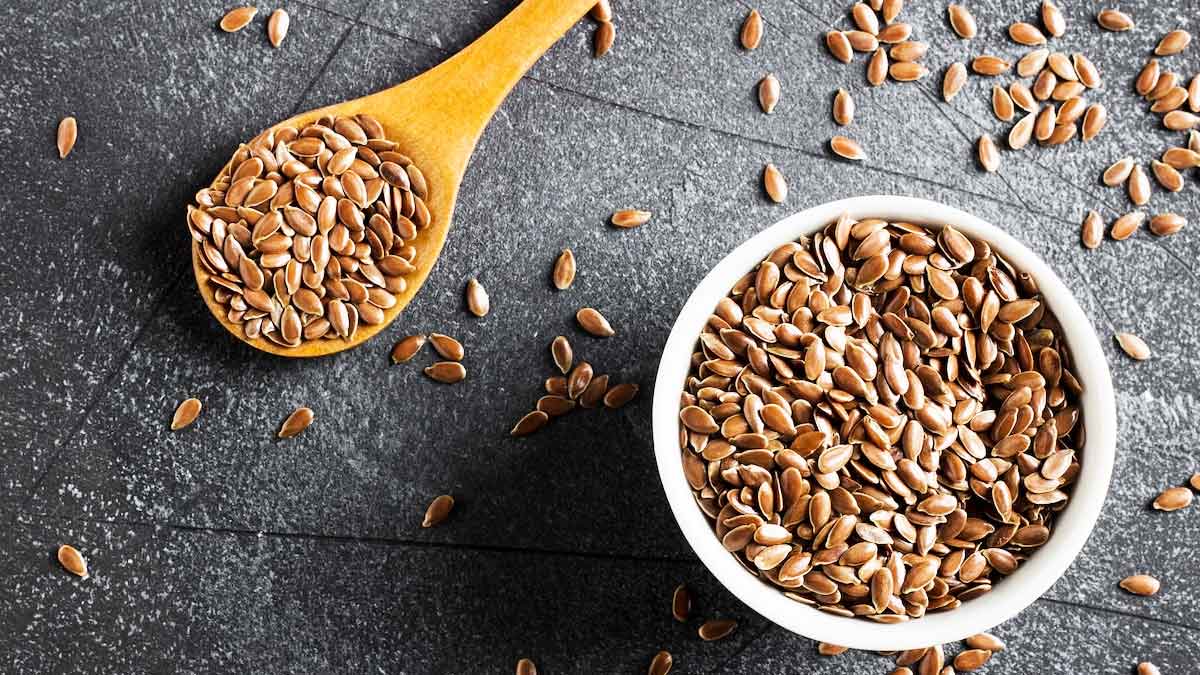 Flaxseed is a rich source of healthy fat, fibre, and antioxidants. A nutritional food, commonly referred to as a functional food, helps to boost health and lose weight effectively. Besides other health benefits, flaxseed helps lower cholesterol levels. Several studies showed that daily intake of flaxseed can lower total cholesterol, especially bad cholesterol levels, and can also help in controlling blood pressure.
One such 2015 study by the American Society of Nutrition revealed, "Dietary flaxseed independently lowers circulating cholesterol and lowers it beyond the effects of cholesterol-lowering medications alone in patients with peripheral artery disease (PAD)."
The result of the study showed that dietary flaxseed in PAD patients resulted in a 15% reduction in circulating low-density lipoprotein cholesterol as early as one month into the trial.
The study concluded that milled flaxseed lowers total and bad cholesterol (low-density lipoprotein) in patients with PAD. It has additional LDL-cholesterol-lowering capabilities when used in conjunction with cholesterol-lowering medications (CLMs).
Also read: Researchers Discover New Method To Monitor Cholesterol Metabolism In Brain
Cholesterol Lowering Impact of Flaxseeds
Flaxseeds are rich in omega-3 fatty acids, omega-6 fatty acids, soluble fibres, and protein. These components are important to bust cholesterol. It also has Linolenic Acid (ALA), which is good for your heart. ALA maintains normal rhythm, pumping, and reduces blood clots.
Additionally, it contains Eicosapentaenoic acid (EPA) and Docosahexaenoic acid (DHA), which are shown to have fighting effects on cholesterol. Flaxseeds are also rich in phosphorus, magnesium, and calcium. They have high potassium and low sodium contents. Thus, helping in controlling hypertension. It stores important micronutrients and vitamins, such as vitamin E.
Daily Intake of Flaxseed
To begin with, you can take five grams or one teaspoon of flaxseeds daily. But these should not be taken raw. Always roast them. Having flaxseeds with a fistful of nuts in a day is beneficial.
You can also fine-grind roasted flaxseeds and add the resulting powder to laddoos, curd, porridges, and smoothies.
Also read: Study Finds Eating An Avocado Daily Can Lower Cholesterol
Who Should Avoid Flaxseed?
Avoid flaxseeds if you suffer from kidney disease and high potassium levels. This condition remains the same If you have any allergy or inflammatory conditions. Flex oil is also not recommended in some cases, as it contains more essential acids per serving, which can aggravate inflammatory bowel diseases and bleeding conditions.
Conclusion
In case you are taking medications or supplements, seek a doctor's advice before taking flaxseeds. This is because flaxseeds interfere with the normal absorption of certain medicines. Also take your doctor's advice, if you are planning to include flaxseeds in your diet.
Image Credits: freepik