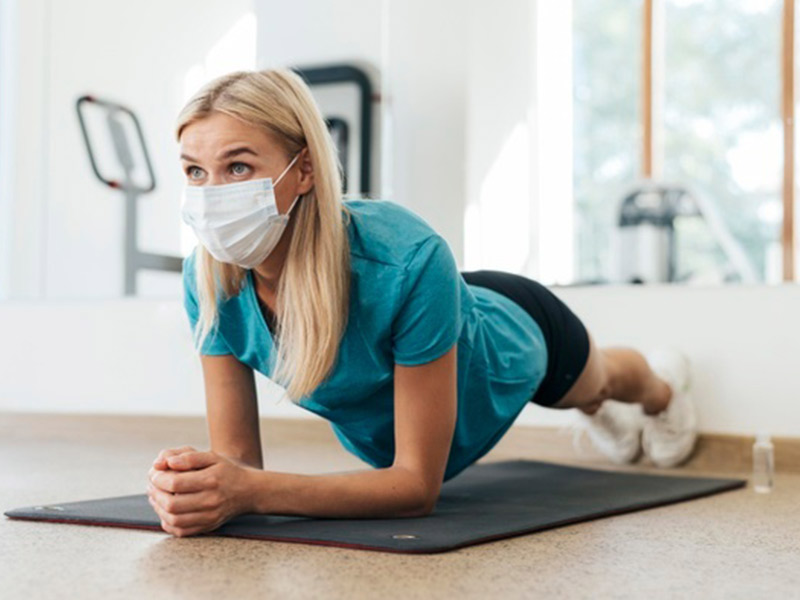 Omicron is the newest known variant the novel coronavirus has mutated into. Although extremely infectious, this COVID strain is believed to be milder than previous mutations. Many people down with COVID during the third wave in India are either asymptomatic or have experienced mild flu-like symptoms. We all know it's alright to do light exercises when down with flu, if only your body allows you to. So, is it also the case with COVID? Can you work out when infected with SARS-CoV-2, or the novel coronavirus? To get an answer to this question, Onlymyhealth spoke to Dr SK Gupta, Associate Director, Pulmonology, Paras Hospitals, Panchkula.
Exercising While Infected With COVID: Is It Alright
According to Dr Gupta, those infected with COVID or recovering from it can do light exercises like walking for a kilometre or two. However, remember to keep it light and do not put a strain on your body. Although the government of India hasn't released any guidelines on this, as per the American College of Sports Medicine, asymptomatic COVID patients or those who suffer from mild illness should rest for at least a week. However, it's a widely known fact that exercising boosts immunity, which helps in fighting off infections. Hence, before jumping on the treadmill, speak with your doctor as he/she would better know your medical history and will be able to advise better if you should exercise or not.
Also read: Starting & Sticking To An Exercise Routine Can Be Tough. 5 Tips For Help
Things To Remember When Exercising When COVID Positive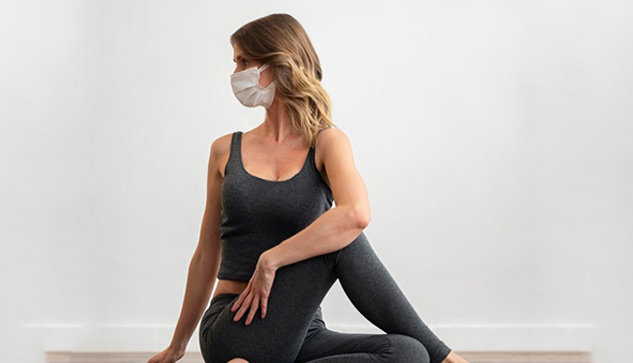 (Photo Credit: Freepik)
COVID is a serious disease that has claimed millions of lives worldwide. Many had a difficult time recovering while there were people who had to suffer from what is called long COVID, a phenomenon in which people experience symptoms way past recovery. Hence, it's better to be cautious as far as this disease is concerned. If you are thinking of working out while suffering from COVID or recovering from it, here are the things that you must keep in mind:
Avoid strenuous exercises of all kinds. Your body is fighting off a virus, hence, you shouldn't overburden your system by doing any vigorous workout.
Reduce both the period and intensity of your workout, otherwise, "your condition may get worse like chest congestion or hacking cough," Dr Gupta said.
Exercises You Can Do While Infected With COVID
Although you must get as much rest as possible while recovering from COVID, here are some gentle exercises you can do during that time:
Walk: You get gently walk for 1 to 2 kilometres. Quite understandably, you can do this once you have done isolating.
Yoga is another great workout you can do. This involves several breathing exercises that can help you manage COVID-induced stress and anxiety. However, do remember to keep your physical activity extremely light.
Other Exercises: Other than the above, you can also do simple toe lifts but not more than 15 to 20 minutes.
Exercise is great for the mind and body. However, you need to consider your present health before exercising. Hence, while recovering from COVID, do physical activities but don't put excessive strain on your body, which can prove to be counterproductive.
Also read: 'No Pain, No Gain': 5 Exercise Myths Debunked By Expert
People Who Shouldn't Exercise When Infected With COVID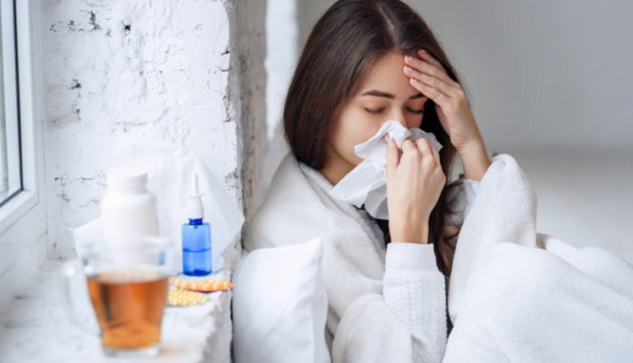 (Photo Credit: Freepik)
Although it's alright to work out when suffering from COVID, as per Dr Gupta, certain people must avoid it altogether and should wait till they recover before they resume their exercise routine. Such people include:
Those suffering from asthma should avoid exercising altogether.
Diabetics
Those who suffer from blood pressure
Those suffering from organ diseases such as kidney, lung, or cardiac diseases.
The COVID-19 disease is known to disproportionately affect those suffering from co-morbidities, such as diabetes, hypertension, etc. Hence, they need to take better care of themselves during the pandemic. Hence, wear a mask, practice social distancing, avoid crowded spaces, and get vaccinated. Also, get your booster shot, if eligible to get one. Healthcare and frontline workers and those above the age of 65 and suffering from co-morbidities are eligible to get a booster dose.
(With inputs from Dr SK Gupta, Associate Director, Pulmonology, Paras Hospitals, Panchkula)
Photo Credit: Freepik