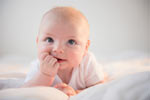 Those people who are born by caesarean section tend to be highly likely of suffering from obesity and other medical conditions later in life.
Children who are born by caesarean section tend to be more likely to suffer from obesity later in life compared with those who are born naturally. This conclusion was drawn by a large analysis of 38,000 births that showed that the odds of being obese were at least 22 percent higher in those who were born via caesarean section.
UK researchers say that it is important for women to be well-informed about the various long-term consequences of caesarean section, though the experts aren't sure of what is really happening. According to the study, for every 100 vaginal births, 60 adults are likely to go overweight or obese. But, out of every 100 babies born by caesarean section, there are at least 65.

On an average, being born by caesarean section adds half a point to a person's BMI. One of the researchers in the study, Dr Matthew Hyde, said that an increase of five in 100 was a significant concern. The researcher said that advice around childbirth was tailored to the immediate consequences that are likely to happen for the baby and the mother, but long-term issues had to be raised as well.

Certain researches in the past have pointed out that conditions such as asthma may be at an increased risk for a person born by caesarean section.
Image source: Getty Images
Article source: BBC News
Read more Health News.